V.C. (Vincent) Schoots MSc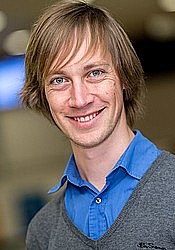 Rotterdam School of Management (RSM)
Erasmus University Rotterdam
Vincent holds a BSc in Biology and an MSc in Cognitive Neuroscience. During his master internship at the Donders Institute for Brain, Cognition and Behaviour of the Radbout University Nijmegen, he investigated the effects of stress hormones on brain activation and memory.
In 2010, Vincent started his PhD at Rotterdam School of Management, Erasmus Center for Neuroeconomics (promotor: Prof. Ale Smidts). His research interests include emotional and social influences on economic decision making and consumer choice. Vincent's daily work at Erasmus Center for Neuroeconomics is in the lab of Dr. Alan Sanfey at the Donders Institute, where he combines behavioral experiments with brain imaging methods.
Recent work includes the influence of social status on how we perceive successes and failures, and neural processes while watching dynamic advertisements.
---
PhD Track You win, I'll buy a lottery ticket
In this proposal we present a research plan to study risk preferences and consumer preferences in multiple contexts, and the neural representations of utility and risk across contexts. In the first study, behavioural testing establishes the strength and nature of the reflection effect when social utility influences consecutive financial risk-attitude. This is followed by a functional magnetic resonance imaging (fMRI) investigation of the principle, where Dynamic Causal Modeling (DCM) will help model the cognitive mechanisms underlying this effect. In the second neuroimaging study, we will look at the influence of social status gains and losses on conspicuous consumption. A third study expands the cross-context framework by investigating the cross-context effect from the first study with opposite directionality: we look for influences of financial utility loss/gain on choices involving social uncertainty. In the fourth and final part of the project, we construct a neural activation-based model that predicts choice behaviour and test it on an independent dataset.
Keywords

fMRI, DCM, risk, uncertainty, conspicuous consumption, reflection effect, cross-context decision-making, social status, behavioural model

Time frame

2010 -
Work in Progress
V.C. Schoots, A. Smidts, A.G. Sanfey & M.A.S. Boksem (2019). The effects of social status on the neural processing of positive and negative outcomes. Neuroimage .
Publications (2)
Articles (2)
H.Y. Chan, A. Smidts, V.C. Schoots, R.C. Dietvorst & M.A.S. Boksem (2019). Neural similarity at temporal pole and cerebellum predicts out-of-sample preference and recall for video stimuli.

Neuroimage, 197

(C), 391-401. doi:

10.1016/j.neuroimage.2019.04.076

E.J. Hermans, H.J.F. van Marle, L. Ossewaarde, M.J.A.G. Henckens, S. Qin, M.T.R. van Kesteren, V.C. Schoots, H. Cousijn, M. Rijpkema, R. Oostenveld & G. Fernandez (2011).

Stress-Related Noradrenergic Activity Prompts Large-Scale Neural Network Reconfiguration. Science, 334

(6059), 1151-1153. doi:

10.1126/science.1209603
---
Address
Visiting address
Burgemeester Oudlaan 50
3062 PA Rotterdam
Postal address
Postbus 1738
3000 DR Rotterdam
Netherlands