W. (Wenjie) Liu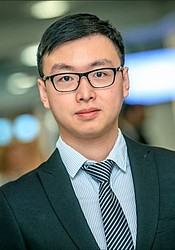 Rotterdam School of Management (RSM)
Erasmus University Rotterdam
ERIM PhD Candidate
Field:
Strategy & Entrepreneurship
Affiliated since 2018
Wenjie Liu is a Ph.D. Candidate at the Department of Strategic Management and Entrepreneurship of Rotterdam School of Management, Erasmus University. His research interests include business and politics, corporate sustainability, corporate governance, and institutional processes. He is passionate about exploring the role of our "taken-for-granted" Western theories and concepts in the non-Western context of China. Present research projects are: (a) the differential explanatory power of Western management theories across the U.S. and China; and (b) the use of political ideology by the Chinese government as a corporate control mechanism. 
Wenjie was a visiting student at the Department of Values, Technology, and Innovation at the Faculty of Technology, Policy, and Management at the Delft University of Technology from 2016 to 2017. 
He obtained his Research Master degree in Management, with a specialization in the Technology of Economics and Management (recipient of the 2018 Best Master Thesis Award) from the South China University of Technology.
---
PhD Track Institutions for Sustainable Business in China
The sustained economic expansion of the Chinese economy has led to significant welfare increases of most Chinese citizens. At the same time, this extraordinary achievement has brought about significant environmental and social challenges. Natural resources are rapidly becoming depleted, which forces China to become an ever-greater importer of energy, ores, and other resources. Furthermore, the pollution of land, water, and air (including the emission of greenhouse gases) continues to increase, threatening the livability of many major Chinese cities and industrial zones. The uneven spread of economic affluence between and within regions and groups has also engendered challenges of social cohesion. This raises important questions about the sustainability of 'the Chinese model', because its future viability is contingent on business' ability to simultaneously contribute to economic expansion, environmental protection, and social equity.
It becomes increasingly clear that the current high rate of economic growth may become unsustainable unless public and private governance arrangements are put in place which both enable business activities and constrain their impact on the natural and social environment and duly consider their social consequences. The key question then is what types of institutional arrangements are effective in addressing the pressing environmental and social challenges that China presently faces, taking into account and respecting the unique features of the Chinese model. Should the central government play a leading role in securing natural resources and containing pollution as well as maintaining social cohesion or leave these important policy issues to local governments to accommodate local conditions? Can we expect private companies to voluntarily assume environmental and social challenges, either on an individual basis or through industry self-regulation? Is there a role for civil society such as environmental organizations or community self-organization? Should China adopt the practices that are effective in Europe and North America, where environmental and social policies have been implemented for several decades, or develop institutions that are germane to the Chinese situation? And is the sustainability performance of these types of institutions contingent on the nature of the environmental and social issues at stake?
While the envisaged research includes theory development, the centre of gravity will be with the collection and analysis of empirical data. Mixed (quantitative and qualitative) methods will be used to assess the actual performance of different institutions in (selected parts of) China.
The extent to and way in which different environmental and social institutions are effective in the Chinese business context is a topic that has received virtually no attention in the academic literature, although it has become of major societal importance. A dissertation shedding a clear light on the types of institutional arrangements that accommodate economically, environmentally, and socially sustainable business would, therefore, make sense from both an academic and a societal perspective.
The project builds on an earlier, highly successful CSC project on environmental institutions in China, led by the same supervisors.
Publication (1)
Articles
T.S. Zhu, Y. Zhu, Y. Xuan, H.H. Gao, X. Cai, S. Piersma, T. Pham, T. Schelfhorst, R. de Haas, I.V. Bijnsdorp, R. Sun, L. Yue, G. Ruan, Q.S. Zhang, M. Hu, Y. Zhou, W. van Houdt, T.Y.S. Le Large, J. Cloos, A. Wojtuszkiewicz, D. Koppers-Lalic, F. Bottger, C. Scheepbouwer, R.H. Brakenhoff, G.J.L.H. van Leenders, J.N.M. IJzermans, J.W.M. Martens, R.D.M. Steenbergen, N.C. van Grieken, S. Selvarajan, S. Mantoo, S. Lee, S.J.Y. Yeow, S.M.F. Alkaff, N. Xiang, Y. Sun, X. Yi, S.Z. Dai, W. Liu, T. Lu, Z.C. Wu, X. Liang, M. Wang, Y.K. Shao, X. Zheng, K.L. Xu, Q. Yang, Y.F. Meng, C. Lu, J. Zhu, J.E. Zheng, B. Wang, S. Lou, Y.B. Dai, C. Xu, C. Yu, H.Z. Ying, T.K. Lim, J. Wu, X.F. Gao, Z.Z. Luan, X.D. Teng, P. Wu, S. Huang, Z.H. Tao, N.G. Iyer, S.G. Zhou, W.G. Shao, H. Lam, D. Ma, J. Ji, O.L. Kon, S. Zheng, R. Aebersold, C. Jimenez & T.N. Guo (2020). DPHL: A DIA Pan-human Protein Mass Spectrometry Library for Robust Biomarker Discovery.

Genomics Proteomics & Bioinformatics, 18

(2), 104-119. doi:

10.1016/j.gpb.2019.11.008
Recognitions (3)
Organization Memberships (3)
Strategic Management Society (SMS)

Member

International Association for Chinese Management Research (IACMR)

Member

Academy of Management (AM)

Member
---
Address
Visiting address
Office: T07-11
Burgemeester Oudlaan 50
3062 PA Rotterdam
Postal address
Postbus 1738
3000 DR Rotterdam
Netherlands