dr.ir. (Ying) Zhang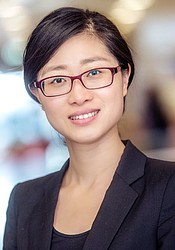 Associate Professor
Rotterdam School of Management (RSM)
Erasmus University Rotterdam
Dr. ir. Ying Zhang owns a cross-disciplinary background including industrial engineering, economics, and management. she actively contributes as a scholar, educator, advisor, writer, TEDxSpeaker, business developer, and a social entrepreneur. At RSM, she is an Associate Dean for China Business & Relations, a tenured Professor on Entrepreneurship and Innovation; the Founder and the Head of Erasmus-Huawei Collaboration Program; In addition, she is founder of NewSilkRoad Group, Erasmus China Business Center, an Academic Advisory Board Member of Amsterdam School of International Business; an Academic Supervisor for China's Poverty Alleviation via Education Project (NGO); and a Senior Academic Advisor for the Steering Group of Dutch National Framework of the BBA Program International Business. She has been a Visiting Professor and a Research Fellow at Harvard University (Harvard Business School, Harvard Law School), Cornell University, as well a Honorary Professor at Beijing Jiaotong University and guest professor at Shanghai Univeristy of Finance and Economics. In 2015, Professor Zhang is recognized as "Top 40 Business School Professor Under 40" worldwide; A NativeSociety Featured Business School Professors in USA, an Elite Professional Woman by National Association of Professional Women (in USA). She is also a active contributor to China's Belt-Road-Initiative Projects in Europe, and a Project Leader (Erasmus side) of one of China's the biggest National Key Research on international inland transportation under China's Belt-Road-Initiative Plan and China's Strategic International Science and Technology Innovation Cooperation.
 Professor Zhang promotes the relevance of academic research and argues for the necessity of cross-sector collaboration between (business) education, academic research, and social-economic circumstance. She advocates the value of social innovation as well as the effort to build a sustainable community. Her opinions and studies have been widely quoted by the global leading medias and managerial journals such as Bloomberg, Financial Times, ChinaDaily, China Economics Net, Washington Post, China Policy Review (Formerly China Economic Report), Caixin, EuroBiz, China Radio International, RushHour(AM1300), EUReporter, People's Daily, EFMD GlobalFocus, Wirtschafts Woche, CKGSB Knowledge, Managerial Insight, SAGE Knowledge, Harvard Business Review, and Harvard Economics Review etc. She applies phenomena-based integrative analysis teaching method with the support of her own MBA teaching cases from HBS, RSM, and IVEY. Her speeches are among with governments, NGOs, Corporates at educational, industrial, and political forums such as with Academic of Management Association, Management and Organization Review,EFMD-and AACSB-Associated Deans Meetings, European Union Think-Tanks, Horasis Global Conferences, World Economic Forum, CCTV, as well as TED Talk etc. 
 On research, Professor Zhang supervises cross-disciplinary studies at graduate, executive, and PhD level. Her research interests are at both macro and micro levels, from both an academic and practice angle, varying from social-economic transition and entrepreneurship development, Inequality-based society towards equality-based sharing value society, to corporate entrepreneurship, globalization-localization paradox, sharing value organizational culture, Fin-Tech (and Tech-Fin), and its impact on digital / sharing economy, to entrepreneurship wellness, happiness, and education.
Professor Zhang cherishes the Tradition of Chinese Philosophy and Yoga Sutra. She is also the co-founder of ZPA Mindbody institution in Boston, dedicating to Yoga and Tai Chi, studying and offering Mind-Body Wellbeing practice and knowledge.
Work in Progress
Y. Zhang & J. Jansen (2018). Dynamic capability, social capital, and Chinese firms' catching up.
PhD Tracks (3)

Role: Daily Supervisor
PhD Candidate: Anna Petruchenya
Time frame: 2013 - 2018
Role: Daily Supervisor
PhD Candidate: Fan Jia
Time frame: 2014 -
Role: Co-promotor
PhD Candidate: Chuqiao Zhou
Time frame: 2016 -
Recognitions (11)
Organization Memberships (2)
Academy of Management

Member

International Association for Chinese Management Research

Member
Side positions (9)
United Nations University-MERIT

Affiliated Researcher

RSM Master Program of Chinese Economy and Business Program

Academic Director

Beijing Jiaotong University

Honorary Professor

Rotterdam School of Management

Associate Dean for China Business and Relations

Harvard Business School

Visiting Professor

Johnson Graduate School of Management, Cornell University

Visiting Scholar

Harvard Law School

Visiting Research Fellow

Amsterdam School of International Business

Academic Board Member

Steering Group of Dutch National Framework of BBA International Business Program

Senior Academic Advisor
---
Address
Visiting address
Office: Mandeville Building T10-52
Burgemeester Oudlaan 50
3062 PA Rotterdam
Postal address
Postbus 1738
3000 DR Rotterdam
Netherlands