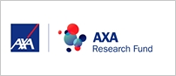 The AXA Research Fund was created to encourage scientific research that would contribute to understanding and preventing environmental, life, and socio-economic risks.
Through its funding schemes the AXA Research Fund wishes to contribute to the development of highly competitive institutions and to provide outstanding researchers with the best possible working conditions.
The AXA Research Fund distinguishes between three types of grants:
1.    Calls for projects
2.    Post-doctoral fellowships
3.    Doctoral fellowships

Detailed information can be found on the AXA Research Fund's homepage.