Horizon 2020 is the European Framework Programme for Research and Innovation and it is the largest financial instrument of the European Commission aimed at securing Europe's global competitiveness. The programme will be running from 2014 to 2020 and has a budget of just over €70 billion. Horizon 2020, often abbreviated as H2020, is the successor of the Seventh Framework Programme (FP7) that will officially end in December 2013.To increase European competiveness H2020 is divided into three main pillars:
Excellent Science
Industrial Leadership
Grand Societal Challenges
The detailed structure is as follows: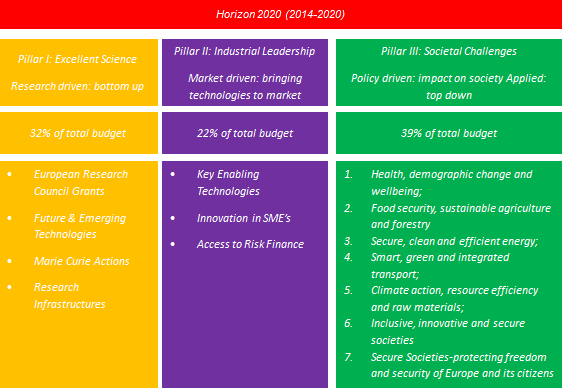 Although H2020 is the follow-up funding scheme of FP7 it does contain several elements that differ significantly from its predecessor.
The most important changes are the following:
The potential impact of research projects will increase in importance. H2020 projects need to address as many potential stakeholders as possible involved in the value chain. Furthermore projects need to encompass all phases of the innovation chain (i.e. from fundamental research up to demonstration in pilots)



Open access: in H2020 the European Commission will put more emphasis on open access to project results, publications and data
Simplification of administrative and financial rules: H2020 has designed a programme architecture that will apply uniform rules for reimbursement costs regardless of the pillar, programme or project size. This new architecture should allow for a significant reduction of paperwork resulting in a time-to-grant of less than 100 days.
Bi-annual work programmes: Pillar III will work with work programmes that are written by the European Commission and give a detailed description of all the research topics that are eligible for funding within a specific Grand Societal Challenge. Per topic the work programme describes in detail the specific challenge to be met, the scope as well as the expected impact. Whereas in FP7 work programmes were published annually, H2020 will work with bi-annual work programmes with flexible clauses for new or unexpected topics.
Detailed information on H2020 and its pillars can be found on the H2020 website of the European Commission.
Detailed information on open calls for proposals can be found on the Participant Portal of the European Commission.