IT as a means of enhancing busines agility in partner networks
---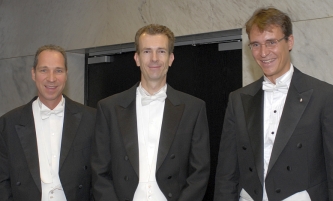 In the current marketplace, service organisations increasingly need to collaborate in partner networks. Competition thus also tends to move away from the organisation itself into the network. However, such networked organisations require new business models based on business agility to sense and respond quickly to highly uncertain events, which can be either threats or opportunities in the market place. Price wars, fast changing customer demands, new governmental legislation and reorganisations cause a lot of uncertainty and are perceived as major drivers for business agility need. In these dynamic networks, quick-connect and data sharing with (changing) business partners becomes a necessity in order to succeed as a business over time.
In his dissertation entitled Business Agility and Information Technology in Service Organizations, <link people marcel-van-oosterhout _blank>Marcel van Oosterhout shows that standardised IT capabilities can be an important means for enhancing such business agility. This requires high levels of data quality and data sharing. The empirical studies teach us that in many organisations, the inheritance of legacy systems and complex IT architectures are a major problem, hampering business agility performance and causing business agility gaps. The reasons behind these gaps include a lack of standardisation of IT, a lack of data quality and a lack of data sharing. A lack of alignment between business and IT also hampers business agility performance. In many organisations, IT is organised per department or for each functional area (i.e. as business silos). This dissertation confirms previous research that higher levels of enterprise architecture maturity support higher levels of business agility performance (Ross et al. 2006). In addition, the results suggest that managers should (re)structure their business processes and IT into an interdependent cycle that supports sensing, responding and learning across the firm. Besides the role of IT the studies teach us the importance of social capital in the response to highly uncertain events. This can mitigate the lack of IT agility that exists in many service organisations by overcoming information system boundaries and rigidities via human relationships.
<link people marcel-van-oosterhout _blank>Marcel van Oosterhout has defended his dissertation on June 17 at Rotterdam School of Management, Erasmus University. His promoter is <link people eric-van-heck _blank>Prof.dr.ir. H.W.G.M. van Heck, Professor of Information Management and Markets, Rotterdam School of Management, Erasmus University. Copromotor is Dr. P.J. van Baalen. Other members of the Doctoral Committee are Prof.mr.dr. P.H.M. Vervest, Prof.dr. E. Waarts and Prof.dr. R. Welke.
About Marcel van Oosterhout
Marcel van Oosterhout was born in Breda, the Netherlands on May 26, 1972. He attended Athenaeum in Oudenbosch. From 1990 to 1996, Marcel studied business administration at the Rotterdam School of Management, Erasmus niversity, where he obtained his Masters of Science degree in Business Administration. He specialized in information management and logistics management. Based on his Masters thesis Marcel wrote together with Martijn Hoogeweegen an article 'De kosten en baten van EDI in logistieke transport ketens: een case studie in de haven van Rotterdam [in Dutch]'. This article won the Telematics Student Award 1996. The prize was used to participate in a study trip to Silicon Valley in 1997.
Starting May 1996, Marcel was employed at a consulting unit of Erasmus University. Marcel worked as a consultant and later as a project manager to develop, manage and execute innovative and knowledge-intensive contract research projects. In 2004 Marcel moved to the Department of Decision & Information Sciences, part of the RSM where he was employed as project manager/scientific researcher. In 2005 he started to develop his first ideas to conduct PhD research in line with the research projects where he was engaged and his personal research interests.
Marcel has participated in fifty national and international applied research and consulting projects. He has researched for a wide range of organizations, ranging from the European Commission, national government, international companies to local governmental organizations and various Dutch foundations.
Marcel has (co)authored a number of papers and book chapters and presented his research at several international conferences.
Abstract
Service organizations have to deal with highly uncertain events, both in the internal and external environment. In the academic literature and in practice there is not much knowledge about how to deal with this uncertainty. This PhD dissertation investigates the role and impact of information technologies (IT) on business agility in service organizations. Business agility is a relatively new term, defined as the capability of organizations to swiftly change businesses and business processes beyond the normal level of flexibility to effectively manage highly uncertain and unexpected, but potentially consequential internal and external events. Empirical research was carried out via surveys and interviews among managers from 35 organizations in four industries and in three governmental sectors. Four in-depth case studies were carried out within one service organization.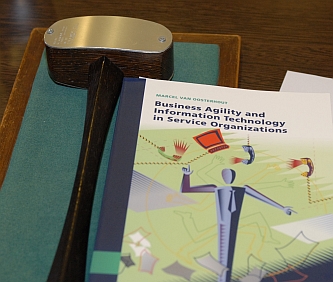 The dissertation has six key findings:
1) In many large service organizations business agility is hampered by a lack of IT agility.
2) Organization and alignment of processes and information systems via the cycle of sensing, responding and learning along with the alignment of business and IT are important conditions for improving business agility performance of service organizations.
3) Standardization of IT capabilities and higher levels of data quality support higher levels of business agility of service organizations.
4) Two knowledge management strategies – codification and personalization -- are identified that can be used to respond to events with different degrees of uncertainty.
5) Social capital is an important moderating variable in the relation between IT capabilities and business agility.
6) The combination of sensing, responding and learning capabilities is required to increase all dimensions of business agility performance.
This thesis takes the first steps to develop theoretical knowledge on the conditions under which IT supports higher levels of business agility and business agility performance.
More Information
Pictures of the Event
Full Text of the Dissertation