How to infuse brands with feelings: EMAC and McKinsey honour Sweldens' marketing dissertation
---
Three awards for Steven Sweldens
Research shows that simultaneous presentation of a brand and its endorsers is more effective than sequential presentation. Simultaneous presentation of a brand and its endorsers transfers positive feelings directly to the brand. This feeling transfer can occur without consumers' awareness, is immune to advertising clutter, and is resistant to consumers' suspicions about being influenced.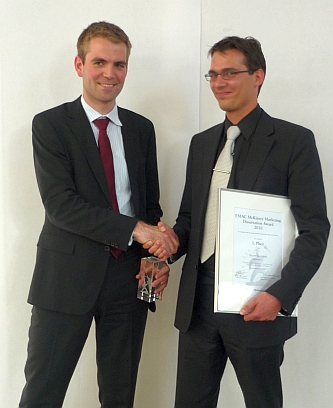 These are the main insights of the winning dissertation of this year's "EMAC McKinsey Marketing Dissertation Award." Recognising and encouraging emerging talent of European marketing experts, the European Marketing Academy (EMAC) and the McKinsey & Company management consultancy have awarded Steven Sweldens for the dissertation he defended in 2009. This dissertation was selected from a total of 60 submissions. In "Evaluative Conditioning 2.0: Direct versus Associative Transfer of Affect to Brands". Sweldens draws on his background in psychology to demonstrate the different ways in which emotions can become attached to brands triggered by evaluative conditioning – in other words, by embedding a brand in positive contexts. Since completing his doctorate, he was named assistant professor of marketing at INSEAD. The award includes a cash prize of EUR 7,000.
Next to this impressive award, Sweldens' dissertation recently also received the Dutch PIM Marketing Science Award 2010. His dissertation was selected from a total of 16 based on its high scientific level (for which it received the highest score) as well as on its added value and applicability in the marketing practice.
Together with Professor Stijn van Osselaer and Chris Janiszewski, Steven Sweldens also received the MOAward for Science 2010. The annual MOAwards are presented to researchers who have differentiated themselves in a positive way in the field of marketing intelligence and market research. In the words of the jury: "This research is both scientifically advanced and relevant for the practice of branding and market research. The scientists have succeeded in clearly explaining a complex theory and to apply it to market research."
More Information