The Relationship between Offshoring Strategies and Firm Performance: Impact of Innovation, Absorptive Capacity and Firm Size
---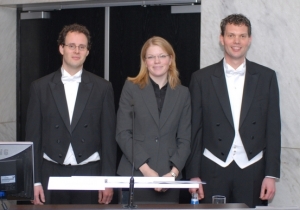 Managers need to be more aware of the possibilities but also of the possible performance effects of offshoring. In her PhD dissertation entitled The Relationship between Offshoring Strategies and Firm Performance, Marja Roza analyses the attributes of an offshoring strategy and their relationship with company performance. Her research shows that clear strategic goals, organisational choices and firm capabilities enable firms to execute and tailor an offshoring strategy to generate performance effects which supports overall firm strategy.
Roza: "Managers should realise offshoring is a multi-dimensional strategy. Offshoring can be undertaken to reduce labour and other costs (cost strategy), to find personnel (resource strategy) and/or to build global strategies and access new markets (entrepreneurial strategy). Moreover, choices need to be made with regard to function offshored, location and governance mode. Small, medium-sized and large firms may all profit from the strategy. Offshoring strategies can be used to support firms' overall strategy to increase performance; improved competitive position and firm growth may be achieved. To generate performance effects, firm capabilities, like innovation and absorptive capacity, show to be very important.
Marja Roza defended her dissertation on 13 January, 2011 at Rotterdam School of Management, Erasmus University (RSM). Her promotors were Prof.dr. H.W. Volberda and Prof.dr.ing. F.A.J. van den Bosch. Other members of the doctoral committee were Prof.dr. A.Y. Lewin, Prof.dr. S.B. Rodrigues and Dr. E. Verwaal.
About Marja Roza
Marja W. Roza–van Vuren (Netherlands, 1979) received her MSc degree in Strategic Management (Cum Laude) from RSM. After a few years in investment fund business, Roza returned to university to learn more about business strategy. She is currently employed as business consultant corporate recovery and restructuring and affiliated with the department of Strategic Management and Business Environment at RSM. Her research interests include international business strategy, firm strategy, firm performance and entrepreneurship. She has been involved in setting up research collaborations with governmental organisations and business partners.
Her work has been published in the Dutch business press, like in Economisch Statistische Berichten and by Stichting Maatschappij en Onderneming (in Dutch). She is preparing submissions to international journals. Moreover, her work has been presented at the Academy of Management (Chicago 2009), Academy of International Business (Milan 2008, San Diego 2009), European Group for Organizational Studies (Vienna 2007), European International Business Academy (Fribourg 2006). She also serves as ad-hoc reviewer for Journal of Management Studies, International Business Review and various annual international conferences.
Roza has taught several Bachelor and Master courses on strategy and entrepreneurship and supervised various master theses. She also taught in the 2-year part-time MScBA program for professionals. During her PhD trajectory, she has been member of the University Council of the Erasmus University Rotterdam and member of the representative board of the national PhD Association of the Netherlands (PNN).
Abstract of The Relationship between Offshoring Strategies and Firm Performance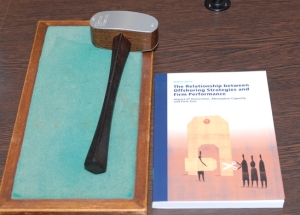 How do offshoring strategies relate to firm performance? And how are innovation, absorptive capacity and firm size influencing this relationship? This research investigates how firms of varying size, well-established firms and growing firms may profit from relocating business activities to foreign locations. Offshoring strategies are conceptualized as consisting of both organizational attributes, i.e. function offshored, governance mode and location, and strategic attributes, i.e. cost, resource and entrepreneurial drivers. Data has been collected in Europe and the US in collaboration with (1) the Offshoring Research Network (ORN), (2) Statistics Netherlands (CBS) and Statistics Europe (Eurostat), and (3) business partners.
First, the results show that firms of different sizes, i.e. small, medium-sized and large firms, may all profit from offshoring strategies. Different theories, among which transaction cost economics, the resource-based view and entrepreneurship theory, help to explain the different rationales these firms may have for their respective strategies. Second, this research indicates that well-established firms do not – or not yet – move beyond cost advantages to improve their competitive position. By applying learning theory, innovation is shown to have an impact on the relationship between offshoring strategy, i.e. function diversity and governance diversity, and competitive position. Third, the knowledge-based view of the firm helps to demonstrate that companies realize additional firm growth by offshoring core functions, while the effect of outsource offshoring on firm growth is contingent upon absorptive capacity. Fourth, the changes over time that firms exhibit in their location choice are explained by way of internationalization theory. While nearshore experience is important for farshoring, experience with farshoring also increases the likelihood of nearshoring, which is an indication of the importance of experience.