Corporate Reputation Research Pioneer Cees van Riel to Receive IPR Pathfinder Award
---
<link people cees-van-riel _self>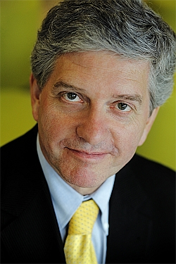 Cees van Riel, a research pioneer in corporate reputation and strategic alignment, will receive the 2011 Pathfinder Award, the highest academic honour bestowed by the Institute for Public Relations (IPR). Van Riel is professor of corporate communication at Erasmus University and vice chairman and co-founder of Reputation Institute.
"IPR's focus is on research that matters to the practice, and Professor van Riel has personified that throughout his academic career," said IPR President and CEO, Frank Ovaitt. "This special award recognises a lifetime of work connecting academia and practitioners while founding the Corporate Reputation Review and what many consider to be one of the world's best Executive Master's programmes in corporate communication."
The presentation of the award will take place November 10 at IPR's Annual Distinguished Lecture & Awards Dinner at the Yale Club of New York City. Professor van Riel will join featured speaker Richard Edelman, CEO, Edelman, and Alexander Hamilton Medal winner Willard "Bill" Nielsen, public relations counselor and retired corporate vice president, Johnson & Johnson. Earlier in the day, Van Riel will present key elements of his research to the IPR Board of Trustees.
Cees van Riel has published a large number of articles (Academy of Management Journal, Long Range Planning, Journal of Management Studies, Journal of Marketing, Management Communication Quarterly, Corporate Reputation Review, etc.) and ten books. His best-known books are Principles of Corporate Communication (1996), Fame & Fortune (2004) and Essentials of Corporate Communication (2006). His newest book, The Alignment Factor: Leveraging Total Stakeholder Support, will be published in four different languages at launch in early 2012.
"I see this award as an acknowledgment of the growing relevance of my research with RSM and RI colleagues, resulting in measurement instruments applied at a global scale in the area of reputation and alignment," said van Riel.

<link people cees-van-riel _self>Van Riel received his bachelor's degrees in economic history and political science, and a master's degree in mass communication from Radboud University Nijmegen, the Netherlands. He earned his PhD in business administration at Erasmus University Rotterdam, The Netherlands.
The Institute for Public Relations is an independent foundation dedicated to the science beneath the art of public relationsTM and focused on research that is immediately applicable in communications practice. Its research is available free at www.instituteforpr.org and provides the basis for the organisation's professional conferences and events.