IKIGAI: Reflecting on life goals optimizes performance and happiness says new professor
---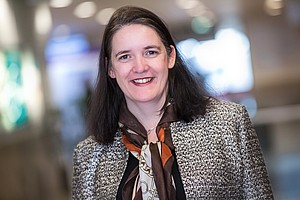 Michaéla Schippers, ERIM Member and Endowed Professor of Behaviour and Performance Management at Rotterdam School of Management, Erasmus University (RSM) will deliver her inaugural address IKIGAI: Reflecting on goals optimizes performance and happiness on 16 June 2017. Professor Schippers will explain how taking control of one's life will optimize personal performance and happiness.
Deliberate self-regulatory behaviours that people use for a fulfilling life include reflection and personal goal-setting; they do it to formulate a direction or purpose. Professor Schippers will propose that higher educational institutions should do likewise; make goal-setting interventions an integral part of the curriculum in order to enhance students' life skills and academic performance.
Ikigai
The Japanese term ikigai means 'reason for being'; finding one's ikigai is considered to be very important in Japan, and is part of the philosophy that Schippers is bringing to students at RSM. During her inaugural address, Schippers will discusses an evidence-based goal-setting intervention that she has used within the school. This relatively brief intervention has been shown to have lasting results: not only does it increase the well-being of students, it also boosts their academic performance by more than 20 per cent. It has also significantly decreased performance gaps due to gender and ethnicity.
Schippers' address will be preceded by a goal setting forum, which concludes with a panel discussion on the idea to make goal-setting and other positive psychology interventions an integral part of the curriculum in order to enhance life skills and academic performance of students. Speakers include Ad Scheepers, senior policy advisor and researcher at RSM and Daniël Roos, Director of JINC which encourages young people into the workplace.
New research centre
During the forum, the Erasmus Centre for Study and Career Success will be officially launched. Headed by Schippers, the Centre will be dedicated to research and activities connected to goal-setting in educational and business settings.
Professor Michaéla Schippers' inaugural address will take place on Friday, 16 June 2017 and is open to the public. The ceremony will start at 16:00 in the Auditorium of the Erasmus Building on Woudestein campus, Burgemeester Oudlaan 50 in Rotterdam. A reception will take place at 16:45 in the same building.
About Michaéla Schippers
Michaéla Schippers is Endowed Professor of Behaviour and Performance Management at RSM. She received her PhD in 2003 from the Psychology Department at VU University in Amsterdam, after which she started work at RSM. Her specific areas of interest are personal and team goal-setting, as opposed to assigned goals; team functioning, specifically team reflexivity and diversity as important prerequisites to goal setting; and organisational networks and the flow of information through those networks.
Her current research focuses on team reflexivity, team diversity and team leadership, as well as the use of a goal-setting intervention to improve academic performance. Other current projects concern knowledge sharing within teams and networks, virtual teams, new ways of working, behavioural operations management, social loafing in teams (the concept of putting in less effort for tasks when working in teams), and social exclusion and inclusion.
Her work has been published in journals such as Annual Review of Psychology, Administrative Science Quarterly, Journal of Management, Journal of Management Studies, Academy of Management Learning & Education, Journal of Organizational Behavior, European Journal of Work and Organizational Psychology, Palgrave Communications, Small Group Research, and Human Relations.
Please register for the goal-setting forum and/or inaugural lecture of Michaéla Schippers at www.rsm.nl/ikigai before Wednesday 14 June 2017.