Three professors are globally highly cited researchers
---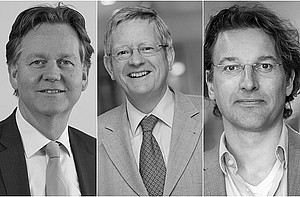 For the fourth consecutive year, Professors and ERIM Fellows Henk Volberda and Justin Jansen from Rotterdam School of Management, Erasmus University (RSM) are on the Highly Cited Researchers list of Clarivate Analytics, formerly the Intellectual Property & Science business of Thomson Reuters. They are joined in the list this year by RSM's Frans van den Bosch, ERIM Honorary Fellow and Professor of Management Interfaces between Organisations and Environment.
Clarivate Analytics published the names of some of the world's most influential scientific minds in its listing of Highly Cited Researchers 2017. There are now three Dutch researchers in the 'Economics & Business' category – Volberda, Jansen and Van den Bosch – and all three are based in RSM's Department of Strategic Management & Entrepreneurship.
Prof. Volberda said he feels 'fantastic' and honoured to be on the list again, which recognises RSM's high-quality research and thought-leadership through the Erasmus Centre for Business Innovation (ECBI), of which Volberda is scientific director. Volberda's appearance in the list again means that his peers in other institutions have cited his research and his co-authored papers in their own work. Subjects have included absorptive capacity, ambidextrous organisations, management innovation, strategic flexibility and co-evolution.
'Top research is teamwork'
He credited the ECBI's high-quality research and thought leadership. "In the end, top research is teamwork and I want to express my gratitude to colleagues at RSM," he said.
Prof. Justin Jansen said he was very honoured to receive such a prestigious award again. "There has been a strong emphasis on getting your research published in top outlets, but being one of the highly cited scholars means that my research has also had a lot of impact," he commented. Jansen's insights about entrepreneurship and the ability of organisations to move beyond operations and to invest in future new business have drawn attention from other scholars and have been integrated in the curriculum of business schools around the world. "That's important because the next generation of leaders need to be entrepreneurial; they will address environmental, economic and societal challenges." His research shows that organisations may be able to work through potential trade-offs to prosper now as well as being prepared for the future.
Prof Frans van den Bosch said: "I am very glad to be on the list together with my colleagues, co-authors and friends Henk Volberda and Justin Jansen. In my view, we are on the list because of the fruitful work we have done together over time, in particular enjoying scientific research focusing on both rigor and relevance for management and society."
Real-life innovation experiments
This year, Volberda has focused on the antecedents of successful innovations such as business model change, organisational identity, regulatory focus and entrepreneurial orientation. The ECBI has begun several real-life management innovation experiments in large companies, funded by the Dutch Ministry of Economic Affairs, and has again worked on the Erasmus Innovation Monitor with the help of the Goldschmeding Foundation. Volberda is also monitoring the Port Authority Rotterdam, and it is hoped that the Harbour Innovation Monitor with the backing of the Smart Port 2.0 consortium will develop into a Human Capital Agenda for ports. ECBI is also working with a PhD researcher to study innovation and technological discontinuities in the fintech (technology used in finance) industry.
Non-fiction novel
Volberda has finished the manuscript for his latest book for Oxford University Press, Re-inventing Business Models: How firms cope with disruption, which will be published at the end of the year, with endorsements from top scholars such as Michael Tushman from Harvard University and Julian Birkinshaw from London Business School. Volberda also worked with Dutch broadcaster Avrotros on the presentation of the Dutch Innovation Awards. This year, he has also ventured into writing a non-fiction novel about how a firm's employees struggle with innovation; the book is partly a management book exploring best- and next-practices for innovation.
Research resonating with practitioners
Prof. Jansen is keen to pair academic rigor with relevance and practical implications. "Studies are only valuable once they provide solutions for managerial problems or societal challenges. So, we need to understand what drives organisational behaviour."
Jansen said many of his research projects start from discussions and interviews with entrepreneurs and managers, a process he finds energising because the evidence from this contributes to earlier studies. "This is why I am on the list I guess. My research not only resonates with scholars but also with practitioners," he said. Jansen is excited about the direction of research that aims to show how some organisations are able to grow rapidly; only a few start-ups actually grow into organisations in their own right. What kind of leadership capabilities and organisational processes do you need to make them grow to a reasonable size, address challenges, professionalise the organisation and maintain your entrepreneurial spirit? "I want to uncover the DNA of a scale-ups – organisations that show an annual growth of at least 20 per cent and can disrupt other businesses."