PhD supervisor award for Prof. Stijn van Osselaer
---
Professor Stijn van Osselaer, former professor of marketing and former chair of the Department of Marketing Management at Rotterdam School of Management, Erasmus University (RSM) and Affiliate ERIM Member, received an ERIM Distinguished PhD Supervisor Award on the occasion of his last PhD defence as an RSM PhD promotor. This award recognises and honours the exceptional contribution to building the reputation of the Erasmus Research Institute of Management (ERIM) and its doctoral programme. In the case of Prof. Van Osselaer, the award recognises in particular his pivotal role as promotor and mentor of young scholars in the field of marketing.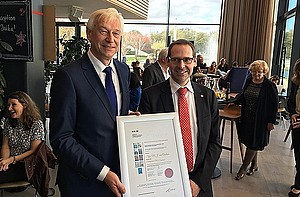 Van Osselaer delivered nine PhD graduates in the field of marketing, two of them cum laude (Bart de Langhe and Ioannis Evangelidis) and several of his students are already among the very best in the field of consumer behaviour, one (Prof. Steven Sweldens) already being an endowed professor at RSM. His last PhD defence as a promotor was that of Anika Stuppy, who graduated on 18 October 2018.
A true mentor
According to current department chair Prof. Ale Smidts, Van Osselaer has been building the reputation of RSM and its doctoral programme through his students. He also took on students who found themselves unexpectedly without a supervisor, and took up this responsibility with success.
Prof. Smidts said that Van Osselaer not only acted as a supervisor providing substantive feedback and support, but also as a true mentor. "Stijn really leads by example, and introduced PhD students to the field of consumer behaviour, helped them build up their scholarly network and made them understand what it takes to be successful as a scholar."
Infectious enthusiasm
Van Osselaer said he is honoured, but that 'much of the credit should go to the PhD students themselves'. "Many of my former students have become very accomplished scholars in their own right. Perhaps more important than their academic achievements is that they are all warm and genuine people who care deeply about their students, colleagues, and institutions."
He added that some of the credit should also be given to RSM. "This business school has the most vibrant, exciting research culture I have ever experienced. Everybody who has been at RSM's Marketing department, or has even just visited, is struck by the infectious enthusiasm, drive, energy, and competence that just seems to float in the air at RSM. I would recommend this group to any junior faculty member wishing to kick start their career."