PhD Defence: Kars Iddo Maik Schouten
---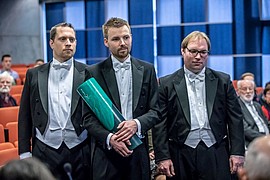 About Kars Iddo Maik Schouten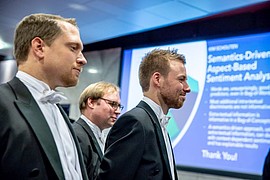 Kim Schouten (1986) obtained the M.Sc. degree in Economics and Informatics, specializing in computational economics, from the Erasmus University Rotterdam, the Netherlands. Both bachelor and master thesis subjects were already in the domain of natural language processing, which is one of his main research interests.
This was followed by a Ph.D. candidacy on sentiment analysis at the Erasmus Research Institute of Management (ERIM) and the Econometric Insitutate at the Erasmus School of Economics as part of the Dutch national research program COMMIT/Infiniti. Furthermore, Kim was affiliated to the Dutch Research School for Information and Knowledge Systems (SIKS), Erasmus Center of Business Intelligence (ECBI), and Erasmus Studio.
Kim's research is at the crossroads of natural language processing, text mining, machine learning, artificial intelligence, and the Semantic Web. Over the years, he has published in several prestigious conferences and journals and actively participated in the benchmarking community. Furthermore, Kim has been part of the program committee of a hand full of workshops and conferences but also often reviewed papers for high-quality journals.
During his Ph.D. candidacy, Kim has successfully taught several IT related courses. For most of these years he has coordinated the first-year bachelor course Skills 1: IT at the International Bachelor of Business Administration.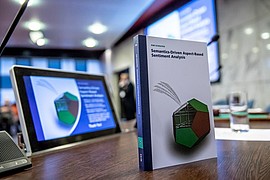 People using the Web are constantly invited to share their opinions and preferences with the rest of the world, which has led to an explosion of opinionated blogs, reviews of products and services, and comments on virtually everything. This type of web-based content is increasingly recognized as a source of data that has added value for multiple application domains.
While the large number of available reviews almost ensures that all relevant parts of the entity under review are properly covered, manually reading each and every review is not feasible. Aspect-based sentiment analysis aims to solve this issue, as it is concerned with the development of algorithms that can automatically extract fine-grained sentiment information from a set of reviews, computing a separate sentiment value for the various aspects of the product or service being reviewed.
This dissertation focuses on which discriminants are useful when performing aspect-based sentiment analysis. What signals for sentiment can be extracted from the text itself and what is the effect of using extra-textual discriminants? We find that using semantic lexicons or ontologies, can greatly improve the quality of aspect-based sentiment analysis, especially with limited training data. Additionally, due to semantics driving the analysis, the algorithm is less of a black box and results are easier to explain.
Photos: Chris Gorzeman / Capital Images