PhD Defence: Paul Wiegmann
---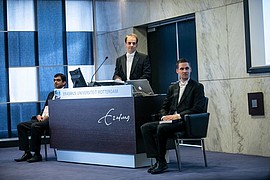 About Paul Moritz Wiegmann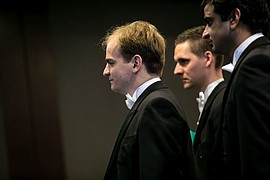 Paul Moritz Wiegmann (born 1989 in Bietigheim-Bissingen, Germany) holds a BSc in Management from the University of Warwick (UK) and a MSc in Management of Innovation from Rotterdam School of Management, Erasmus University. Prior to working on his PhD, he also studied at SciencesPo Paris (France) and gained practical experience at Bosch Thermotechnology (Wernau, Germany) and B.Braun Aesculap (Tuttlingen, Germany). Paul was a visiting scholar at the Chair of Innovation Economics of the Technical University of Berlin (Germany, summer 2014 & summer 2015) and the Graduate School of International Studies at Yonsei University (Seoul, Korea, spring 2018). From March 2019 onwards, Paul will work as an assistant professor in the ITEM group at TU Eindhoven.
Paul's research aims to understand how innovation in complex systems, which are driven by many actors, can be managed to facilitate the emergence of a coherent system, and how the involved actors can ensure that their innovations are in line with demands by markets, society, government, and other stakeholders. In his dissertation, Paul investigates the role of standardisation in this context.
Paul published his work in Research Policy, as a book with Palgrave Macmillan, and is co-author of a chapter in the Handbook of Innovation and Standards. He presented his work at a number of conferences, such as DRUID, EURAM, EURAS, and IEEE-SIIT. While working on his dissertation, Paul also developed an extensive teaching and thesis supervision portfolio, which covers a range of topics related to innovation management and qualitative research methods. In addition to his research and teaching, Paul acted as first-year representative (2013-2014) and chairman (2014-2015) of the ERIM PhD Council. In his free time, Paul enjoys Geocaching, playing board games, and travelling.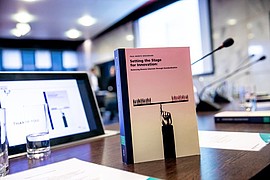 Actors who are involved in innovation face a large, diverse range of – often conflicting – interests from stakeholders in many areas of business and society. Innovations can only succeed if they are aligned with societal demands and supported by a range of factors, such as regulation and technical infrastructures.
Through three studies, this dissertation shows how standardisation helps balance these interests and create foundations for new technologies. The results reveal (1) how standards emerge in highly complex and dynamic processes which may simultaneously rely on coordination in markets, committees, and/or governments to shape emerging technologies. They show (2) a range of strategic options for influencing these processes' outcomes, which are available to companies and other actors. This dissertation also shows (3) how these options can be integrated into managing technology development at the company- and industry levels. Doing so helps ensure that innovations, standards, and regulation are aligned, thus supporting a technology's market introduction. Finally, the dissertation (4) identifies specific strategies that companies follow with regards to the choice of forum where they engage in standardisation, revealing different priorities in firms' activities.
Altogether, this dissertation shows standardisation to be key to achieving the balance of interests that is required for innovations to prosper. Standardisation allows companies and other actors to establish an equilibrium of interests that sets that stage for innovation.
Photos: Chris Gorzeman / Capital Images