PhD Defence Annelot Wismans
---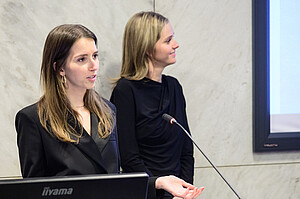 In her dissertation, Behavioural Insights from the COVID-19 Pandemic. Studies on Compliance, Vaccination, and Entrepreneurship, ERIM's Annelot Wismans studied the understanding of behaviour during the COVID-19 pandemic. She covered three themes: Compliance with COVID-19 measures, COVID-19 vaccination, and entrepreneurship during the pandemic.

Annelot defended her dissertation in the Senate Hall at Erasmus University Rotterdam (EUR) on Friday, 27 January 2023. Her supervisors were Prof. Ingmar Franken (ESSB) and Prof. Roy Thurik (ESE). Other members of the Doctoral Committee were Prof. Semiha Denktas (ESSB), Prof. Kirsten Rohde (ESE), Prof. Karl Wennberg (Stockholm School of Economics), Prof. Frank Janssen (Université Catholique de Louvain), Prof. Frank van Lenthe (Erasmus MC), Prof. Patrick Groenen (ESE), and Prof. Niels Rietveld (ESE).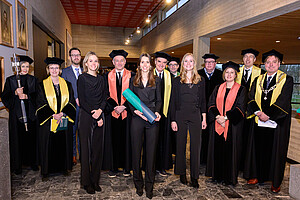 Annelot Wismans was born on the 29 March 1993 in Rotterdam, the Netherlands. Before starting her PhD, she obtained a Bachelor of Science in Psychology at the University of Leiden in 2015 and a Bachelor of Science in Business Administration at the Rotterdam School of Management in 2016. In 2018, she completed the Master of Science in Economics and Business Economics, specializing in Behavioural Economics, at the Erasmus School of Economics. In December of that year Annelot started as a PhD candidate as part of an interdisciplinary project connecting economics and psychology under the supervision of Prof. Dr. Roy Thurik and Prof. Dr. Ingmar Franken. She carried out her research within the Department of Applied Economics at the Erasmus School of Economics as a member of the Erasmus Research Institute of Management and the Erasmus University Rotterdam Institute for Behaviour and Biology.
Annelot's research can be broadly divided into two themes: Studies obtaining behavioural insights from the COVID-19 pandemic (amongst others focusing on compliance with COVID-19 measures and vaccination) and studies on the psychology of entrepreneurship. Her work has been published in Applied Psychology, BMC Public Health, Management Review Quarterly, Social Psychological Bulletin, Personality and Individual differences, and PLOS One. One of her studies has been published as a chapter in the book 'The COVID-19 Crisis and Entrepreneurship: Perspectives and Experiences of Researchers, Thought Leaders, and Policymakers' published by Springer. Annelot will continue her career outside the academic world.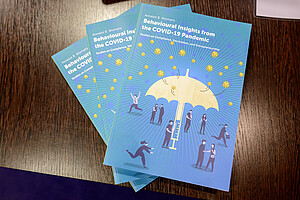 The COVID-19 pandemic has had an unparalleled impact on the global population. To halt the pandemic preventive measures were quickly installed by governments and new vaccines were developed. The effectiveness of both these strategies heavily relied on human behaviour. It was therefore quickly acknowledged that insights from social and behavioural were needed. This urgent need formed the start of this dissertation.
The six studies included add to the understanding of behaviour during the COVID-19 pandemic and cover three themes: compliance with COVID-19 measures, COVID-19 vaccination, and entrepreneurship during the pandemic. In short, we study whether individual compliance with different COVID-19 public health measures can be treated as a sole construct, how compliance with these measures relates to differences in individual impulsivity, and how country-level policy stringency and individual level predictors associate with face mask use in a multi-country sample. We provide insights into the drivers of students' COVID-19 vaccination intention and study how vaccination behaviour differs between entrepreneurs and employees. Finally, we investigate how the pandemic has altered entrepreneurial intentions of students.
Most of the chapters are based on data collected as part of the Erasmus University Rotterdam International COVID-19 Student Survey, while others make use of large representative open access databases (LISS panel, Eurobarometer, and Understanding America Study).
View photos of Annelot's PhD Defence
Photos: Rick Keus / Rick Keus Fotografie