Goal-Setting for Your Students
Is your university dealing with high dropout rates and students who are not reaching their full potential and might lack life direction? There is a scalable solution: Goal-setting! With limited time and resources, you can tackle these issues, and we are happy to support you along the way!
Our goal-setting programme has several parts that participants will complete. Each part of the goal-setting programme is specifically designed to help participants make the most out of the programme. The goal-setting programme is composed of four parts to be completed by students. These are:

Personality questionnaires
The personality questionnaires measure several personality aspects that reveal key insights into the participant's characteristics. These questionnaires are taken throughout the year to keep track and measure the impact of the goal-setting programme.
Goal-setting interventions
The goal-setting intervention consists of several parts aimed to help participants discover what they want in their lives and take charge. In the first,participants write about one thing they would like to do better, learn about, and a habits they would like to improve. In the second part, participants define goals and rank these according to priority. After that, they are asked to analyse these goals in-depth. The video describes how this intervention helps participants on this joruney.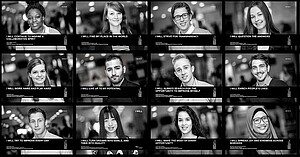 The third (optional) part of the goal-setting programme is the public commitment. At RSM we call this the IWILL movement. The I WILL statement reflects the spirit of RSM's diverse community of students, researchers, staff, professors, and alumni. More than 10,000 people have created their IWILL statement and committed to their goals in public. We help our partners set up a similar movement at their institutions. Click here to find out more about IWILL at RSM.
The goal diaries are a series of brief questionnaires which measure and illustrate students' progress in achieving their goals.