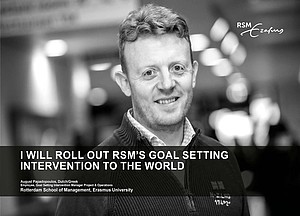 Director of Engagement – Throughout his career, August has been fortunate to have set up Chartered Management Institute (UK) colleges in the Balkans. He also set up the Disability Centres for the Universities of Liverpool (UK) and Roehampton (UK). He was consequently occupied with initiating projects to increase student performance and retention. Joining the Erasmus research centre for Student & Career Success was a natural move. August is occupied with fostering the centre's impact partnerships and engagements.
Projects & Operations Assistant Study and Career Success – Edward is a consistent and reliable contributor to the team. He likes to maintain overview of processes and is relationship oriented. Graduated in Business on the topic of Leadership & Ethics. He has an entrepreneurial spirit and is always looking for opportunities to grow and learn. Contributing to the development of other people's talents is what he deems very valuable in his work.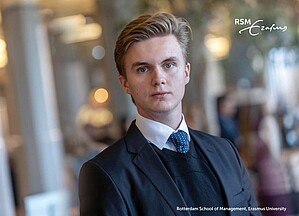 Projects & Operations Assistant Study and Career Success – Miklós graduated from International Business Administration, and currently pursues his master's degree in Finance and Investments. He completed multiple internships in the field of Marketing, Product Development and Product Management. Miklós is passionate about seeking new challenges while improving his professional and personal skills. He is currently working as an operations assistant at the goal-setting centre.
Projects & Operations Assistant Study and Career Success – Max is a positive, ambitious, and data driven team member that likes to take up several projects within the team. Max is currently enrolled in the finance and investments masters of RSM and in his spare time he loves to play sports, explore new and hidden gems in the lovely city Rotterdam. His drive to learn something new every day makes him a valuable asset for our team.
Researcher Study and Career Success – Bettina de Jong studied organisational psychology and completed a PhD in Equal Opportunities at the Research Institute of Child Development and Education at the University of Amsterdam. She worked on multiple projects as an educational trainer and consultant at the University of Utrecht. Bettina is currently a researcher in the goal-setting team, where she analyses the effects of the goal-setting intervention.
Research Assistant Study and Career Success – Felicia Rose studies a Master's in International Sociology specializing in Social Inequalities. Felicia Rose is passionate about decolonization and accessibility in educational policy, addressing educational inequalities, and promoting the well-being of students and young adults everywhere. She is a creative and enthusiastic member of the goal-setting team and enjoys employing an intersectional and sociological lens to new and ongoing projects. She is excited about the improvements in the quality of life and academic performance the goal-setting intervention has had on so many students thus far.
"I will keep inspiring people to find meaning in live"
Consultancy, training and research Study and Career Success – Huib Rommers studied Physical education and holds a educational masters degree in learning and innovation. He has investigated the development of creative ability in pre-vocational students and is currently in the process of publication of a paper on this subject. Within the goal setting team he focuses on bringing the goal setting project to new partners. Within the team and with external partners he works on developing, implementing and researching the life crafting and creativity interventions.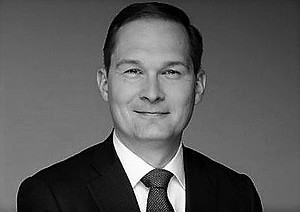 Part-time PhD candidate Study and Career Success – Duncan Rooders was a commercial pilot, before joining his family business – Matcorp Investments – as CEO. Duncan has Master's degrees from both London Business School and London School of Economics, and is an alumni of Harvard Business School's OPM programme. He is currently pursuing a PhD in management at RSM, with a focus on goal striving, and a special interest in techniques such as implementation intentions and mental contrasting.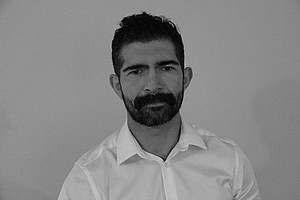 Part-time PhD candidate Study and Career Success – Sebastian Freyhofer studied bioengineering in Chile and developed his career in the mining and project development industry with a focus on sustainability and the mining industry. Sebastian has a Master's degree in environmental engineering from the Pontifical Catholic University of Chile , a Master's degree in sustainability and environmental management from Harvard University, and a Master's degree in Psychology from Harvard Harvard University. He is currently pursuing a PhD in management at RSM, studying how different factors influence individuals and group performance.
Researcher Study and Career Success – Andreas Alexiou is an assistant professor of Strategic Technology Management at TiSEM, Tilburg University. One of his main research interests involves the use of emerging technologies for learning and performance improvement in work organizations. Such technologies involve Serious Games, Artificial Intelligence, Virtual Reality and more. Andreas is currently a researcher in the Erasmus Centre for Study and Carreer Success.