Erik van Raaij organizes Ipsera Doctoral Workshop for the fifth time
---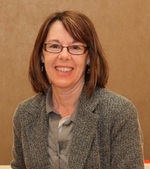 The annual IPSERA (International Purchasing and Supply Education and Research Association) conference was organised in Nantes (France) this year. For the fifth time in a row, Erik van Raaij organised the doctoral workshop. Twenty PhD students Europe and beyond attended this workshop on the 24th of March 2013. Participating students had the opportunity to present their research proposals, which led to interesting discussions with experienced faculty and with their peers. A Masterclass on "How to survive the publishing process" was taught by Janet Hartley (pictured) from Bowling Green State University.
The focus of the workshop is on methodological issues. The main objectives of the workshop were to assist PhD students in building an international network of fellow PhD students and renowned faculty, and to assist PhD students in developing and improving their research projects.
Next year the conference will be held in Pretoria (South-Africa). The organization of the DW will be in the hands of Davide Luzzini. Please contact him at davide.luzzini@polimi.it in case you are interested to attend this workshop in 2014.