Erasmus Doctoral Programme in Business and Management
ERIM's full-time doctoral programme – the Erasmus Doctoral Programme in Business and Management – is focused on developing and nurturing international academic talent. It enables promising students to develop into 'thought leaders' and become top researchers at the world's best universities and business schools.
Facts and figures
Erasmus University Rotterdam is ranked number 5 in Business Administration and number 7 in Management (ARWU 2018)
ERIM currently supports a community of around 250 senior researchers and 160 doctoral students
Five research programmes spanning all areas of management research: Business Processes, Logistics & Information Systems; Organisation; Marketing; Finance & Accounting; Strategy & Entrepreneurship
Research Initiatives which focus on specific areas of research interest
Access to EUR's state-of-the-art behavioural lab, extensive range of databases and excellent computing facilities.
Strong ERIM presence in top academic journals
More than 200 international research seminars, workshops and conferences each year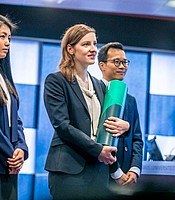 In her dissertation 'Essays on Product Quality', Anika Stuppy extends existing knowledge on the perception and pursuit of product quality.
In her dissertation 'Make Our Planet Great Again: A Systems Perspective of Corporate Sustainability, Amanda Williams aims to advance our understanding of sustainability management by leveraging a systems thinking lens.