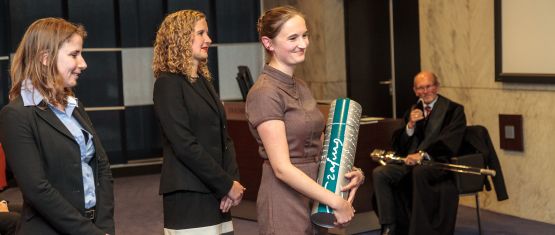 An academic career is the most popular choice among PhD graduates (ca. 70% of alumni). ERIM alumni at international universities and business schools outside the Netherlands are mostly located in Europe: at INSEAD, HEC Paris, University of Cambridge, ESSEC, Warwick Business School, Bocconi, University of Antwerp Management School, Saïd Business School of Oxford University, Catholic University of Leuven, EM LYON Business School, Business School of the University of Reading, Bradford University, IMD Business School, Warsaw School of Economics, European School of Management and Technology in Berlin, European University Institute in Florence, Norwegian Business School, Universita della Svizzera Italiana, Nova School of Business and Economics Portugal, Aalto University School of Science Finland, Kühne Logistics University, University of Milan, to name a few. We also have alumni teaching at every Dutch university, among which Free University of Amsterdam (VU) and Delft University of Technology (TU Delft) are particularly popular.

Outside of Europe, our alumni are working at the University of New Brunswick, Florida International University, Robert H. Smith School of Business of the University of Maryland, University of Central Missouri, University of Colorado at Boulder, UCLA, University of Melbourne, Georgia University of Technology, Queensland University of Technology, Hanoi University of Technology, Universidad Popular Autonoma del Estado de Puebla in Mexico, Hong Kong University of Science and Technology, Concordia University Canada, University of Toronto, Pennsylvania State University, University of Newcastle Business School Australia, Fudan University China, Queensland University of Technology, Santa Clara University, to name a few.

In business, our alumni work both in public institutions and in the corporate world, at companies such as Shell, Eneco, AEGON or Unilever, banks such as ABN AMRO, ING, London Bank and Rabobank, and consultancies such as Deloitte, Ernst & Young, Accenture, PWC and Robeco. Some of our alumni have a consulting firm of their own. Business positions held by ERIM alumni are typically related to research: senior researchers and consultants, business analysts, but also include department heads, team leaders and directors.