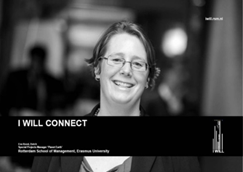 Eva Rood works for Rotterdam School of Management's Dean Steef van de Velde as Business Development Manager in a large variety of sustainability projects, and was appointed co-director of the Centre for Ecotransformation in 2013.
As business development manager she works intensively with Willem Ferwerda and Marcello Palazzi in exploring collaboration efforts and attractive partnerships, amongst others as project leader of the Erasmus+ co-funded European Network for the Advancement of Business and Landscape Education, the ENABLE-project.
She has extensive experience in building networks and developing communities – in her previous job at RSM as Manager Alumni & Corporate Relations 2001-2011, she has built and strengthened the MSc/BSc alumni network of the school and has organised over 150 events (varying from 5-850 participants).
Eva started her career as a communications advisory for the Amstelveen municipality, after which she decided to join Erasmus University as a programme manager for the Part-time Programme drs. Bedrijfskunde. In her years as manager Alumni & Corporate Relations, highlights include the introduction of the Big Business Administration Reunion, the establishment of several networks for entrepreneurs, which have now grown into the Erasmus Centre for Entrepreneurship, and the start of a close cooperation with several multinationals.
In the recent past, Eva has also worked as project leader Sustainability of the Erasmus University, has set up the Erasmus Sustainability Hub, co-launched the Erasmus Honours Programme Grand Challenges, and acted as secretary to the trailblazers-team of the Leiden-Delft-Erasmus Centre for Sustainability.
Eva holds a Masters degree in Psychology from Utrecht University is a registered Prince2 Practitioner. She lives in Rotterdam with her partner & their 2 beautiful girls and is a passionate supporter of the local football club Feyenoord (Dutch champions in 2017!).