MSc Global Business & Sustainability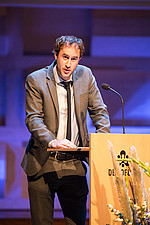 Dr Steve Kennedy is the Academic Director of the MSc Global Business & Sustainability. The programme examines how businesses create proactive strategies to deal with issues such as resource scarcity and climate threats, and innovate new ways of creating and delivering value to become sustainability solutions providers. Students learn how firms can embed sustainability into the core of their international operations, work collaboratively to tackle grand challenges, and implement new circular and inclusive business models.
Students take a practical and critical approach to sustainability issues to form an understanding of how global firms can effectively manage their social and natural capital dependencies, and unlock new opportunities for competitive advantage. The programme considers the theoretical core of what is managing for sustainability, while also exploring the latest cutting-edge advancements of practice including how new social enterprises are changing the face of industries.
Review the curriculum for more details.
MSc Core Course: Sustainability Leadership & Planetary Boundaries
Sustainability Leadership & Planetary Boundaries explores and broadens understanding of corporate sustainability, allowing for a holistic recognition of the interconnectivity of issues and their impacts on the future of business. The course focuses on the cutting-edge developments of corporate sustainability and developing understanding of what leadership for sustainability means and entails. Participants identify how businesses formulate strategies for sustainability and can find opportunities for shared value creation through providing sustainability solutions.
The course engages with numerous corporate and external thought leaders in sustainability. Each year the course engages participants with a 'Live Business Case' with companies such as Eosta, Ricoh and Samsung. Advancements such as circular economy, integrated reporting, and social entrepreneurship among others are introduced, discussed and critiqued. Participants also engage with the innovative 'planetary boundaries framework' which acts as the cornerstone for the Action2020 strategy of the World Business Council for Sustainable Development.
Review the course guide for more details.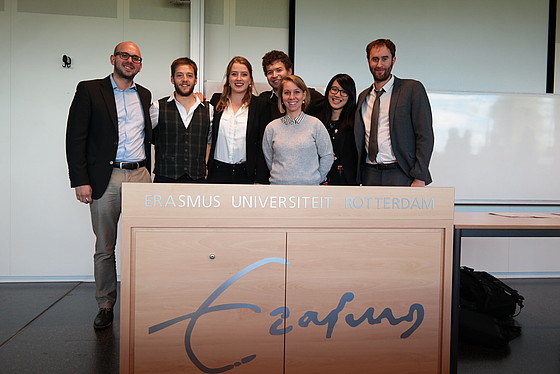 MSc Elective: Climate Change Strategy Role-Play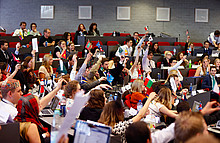 Climate change is an important issue; it receives international attention from political leaders, corporations, the media, advocacy groups and the general public. It is likely to become even more important as the effects of climate change intensify competition for resources and the likelihood of natural disasters, disease vectors, scarcity of water and food, and refugees.
We believe that tomorrow's business leaders should be educated about climate change – the science, the reactions of policymakers, and the role of business. They can become an essential part of the solution, but only if they are equipped with a thorough understanding of the challenges involved and the processes of constructing new policies.
This course deals with the core issues of climate change and includes a wide range of effective learning tools and exercises. We will highlight international and national regulatory frameworks plus the challenges for obtaining resources and opportunities presented by new markets. Participants develop skills to help you in negotiation, strategy, research, public speaking and debating.
At the culmination of the course students join with seven leading European universities for a simulated United Nations Framework Convention on Climate Change event.
In 2019 the 'Climate change Strategy Role-Play' course was awarded for its outstanding contribution to the MSc CEMS International Management. See the Financial Times article here.
This module runs as a joint elective between MSc Global Business & Sustainability and MSc International Management/CEMS.
Review the course guide for more details.
Get a feel for the simulation on this website.
Each academic year we supervise and co-read multiple MSc Theses related to the research themes of our center. We also remain open to students suggesting their own research interests. Examples of past thesis titles:
Opening the 'black box' An exploration of the innovation process towards sustainable business models
Effective implementation of sustainable business models: A nine-step framework to support companies' transformation
Enabling Radical Sustainability-Oriented Innovation in Large Firms: An Exploratory Study
How can collaboration with key actors enable the transition from linear to circular economy business models?
Towards Responsible Management Education: A Case Study of RSM
The evolution of business for system wide transformation
The Relationship Between Certification and Sustainable Business Model Innovation and the Moderating Effect of Organizational Culture


Winner of 2015 KPMG-RSM Thesis Award
Partnering up for Fairtrade Climate Neutral Coffee: The Influence of Cross-Sector Partnerships on Sustainability Oriented Innovations.