Looking for a volunteering position at the Centre for Eco-transformation? Contact Eva Rood to ask for possibilities.
Erasmus Sustainability Hub

Connecting passionate people at Erasmus University to collaborate is the drive and ambition behind Erasmus Sustainability Hub. This is done by coming together to co-create the transition towards a sustainable future for the University and beyond.

The Erasmus Sustainability Hub aims to:
Cluster and host all sustainability initiatives and groups of people on the Woudestein campus;
Interlink sustainability efforts within education, research, operations and outreach, in order to grasp full potential of our organisations strengths;
Create an ongoing buzz on sustainability for creating a cultural change, building awareness and improving environmental literacy;
Initiate, drive ánd execute continuous improvement efforts within operations, to find creative solutions for environmental and social problems;
Collaborate with corporate partners and other stakeholders in a more structural way.
More info & contact details: www.eshub.nl or www.facebook.com/erasmussustainabilityhub

Sustainable RSM aims at achieving the lasting commitment of our comprehensive RSM Community to the performance of social and environmentally sustainable business operations.
We do so by sparking academic programmes to infuse the possibilities of and constraints on the natural environment into relevant disciplines of all RSM curricula; creating a hub to facilitate RSM researchers to perform interdisciplinary research in the areas of social and environmental sustainability; reducing the overall environmental footprint of business-relevant behaviour of the RSM Community to environmentally sustainable levels; and raising awareness, inspiring, and stimulating all RSM stakeholders to behave in socially and environmentally sustainable ways.
For more information please visit sustainable.rsm.nl.
For more information on sustainability activities from other faculties at Erasmus University, please visit eur.nl/sustainable
RSM MBA chapter of Net Impact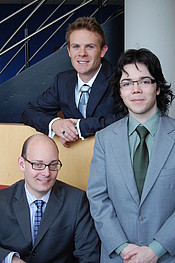 Net Impact aims to make a positive impact on society by growing and strengthening a community of new leaders who use business to improve the world. They offer a portfolio of programs to educate, equip, and inspire more than 10,000 members to make a tangible difference in their universities, organizations, and communities.
The RSM MBA chapter of Net Impact focuses on Global Business issues in order to:
Learn how resolving environmental and social problems can create opportunities instead of additional costs.
Discover how framing the solutions to these complex issues lead to innovation and enterprise development.
Find out how sustainable competitive strategies can actually improve quality of life and preserve the environmental integrity of our society.
Enactus is a is an international collaboration between students, universities and businesses. The goal of this partnership is to enable students to develop themselves into entrepreneurial and responsible leaders. Students do this by addressing societal issues through entrepreneurial action.
They believe that a sustainable and fair world for everyone starts with yourself. This includes empathy, courage and entrepreneurship. Therefore, Enactus invests in entrepreneurial and responsible leaders who are aware of their own role in relation to people, society and the world and are committed to making a positive impact there.
More info: https://www.enactus.nl