C.T. (Caroline) Witte
Erasmus School of Economics (ESE)
Erasmus University Rotterdam
ERIM Doctoral Student
Field:
Strategy & Entrepreneurship
Affiliated since 2013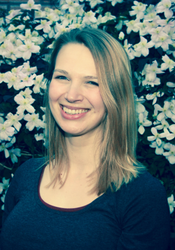 Caroline Witte is a PhD researcher at the Erasmus University Rotterdam and is affiliated with the Erasmus Research Institute of Management. In her dissertation she examines the strategy of Multinational Enterprises in conflict countries. Her research takes place on the interface between economics and business, combining the international strategy literature, real options theory and endogenous growth models. She obtained her bachelor's degree in Liberal Arts and Sciences at University College Maastricht (cum laude) and her master's degree in Strategy and Entrepreneurship Economics at the Erasmus School of Economics (cum laude). 
PhD Project
Self - interest Fuelling Peace? Multinational enterprises in politically violent regions.
In my dissertation, I study the relation between political violence and Foreign Direct Investment. I aim to find answers to two key research questions. First, how does political violence affect FDI? Second, how does FDI affect the development path of countries affected by political violence? To answer these questions concepts from the international strategy literature are combined with real options theory and endogenous growth models. Sector and firm level data are exploited to examine the heterogeneous nature of the effect of political violence – FDI relation. In addition, I aim to tackle the endogenous nature of the relationship by means of instrumental variable techniques. Econometric models are complemented with qualitative data obtained through interviews. The main objective of the dissertation is to guide policy makers and Investment Promotion Agencies (IPAs) active in conflict countries in effectively assessing the role of FDI in the promotion of peace and economic development.
Keywords

Time frame

2013 -
---
Address
Visiting address
Office: Tinbergen Building H08-21
Burgemeester Oudlaan 50
3062 PA Rotterdam

Postal address
Postbus 1738
3000 DR Rotterdam
Netherlands