D. (Dennis) Fok
Full Professor
Erasmus School of Economics
Erasmus University Rotterdam
Member ERIM
Affiliated since 1999
Fellow ERIM
Affiliated since 1999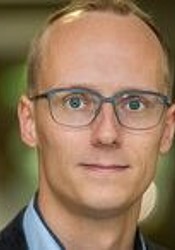 Dennis Fok is an endowed professor of applied econometrics at the Econometric Institute, the Erasmus School of Economics (ESE).
His special interest is in modelling unobserved heterogeneity, panel models, marketing econometrics, and non-linear models.
Professor Foks' research has been published widely in peer-reviewed academic journals including, among others, the Journal of Marketing Research, Marketing Science, the Journal of Econometrics, and the Journal of Applied Econometrics.
Publications (30)
Articles (25)
A. de Palma, M. Abdellaoui, G. Attanasi, M. Ben-Akiva, I. Erev, H. Fehr-Duda, D. Fok, C. Fox, R. Hertwig, N. Picard, P.P. Wakker, J. Walker & M. Weber (2014).

Beware of Black Swans: Taking stock of the description - experience gap in decision under uncertainty. Marketing Letters, 25

(3), 269-280. doi: http://dx.doi.org/10.1007/s11002-014-9316-z

[go to publisher's site]
Book Contributions (2)
D. Fok, P.H.B.F. Franses & R. Paap (2006). Performance of seasonal adjustment procedures: simulation and empirical results. In T.C. Mills & K. Patterson (Eds.), Palgrave Handbook of Econometrics, Volume 1, Econometric Theory (pp. 1035-1055). Basingstoke: Palgrave MacMillan

D. Fok, P.H.B.F. Franses & R. Paap (2002). Econometric analysis of the market share attraction model. In P.H.B.F. Franses & A.L. Montgomery (Eds.), Advances in econometrics: Econometric models in marketing, chapter 10 (Advances in Econometrics, 16) (pp. 223-256). Amsterdam: JAI Press
Doctoral Thesis
D. Fok (2003, november 6).

Advanced econometric marketing models.

Erasmus University Rotterdam (186 pag.) (Rotterdam: Erasmus Research Institute of Management (PhD Serie 027)) Prom./coprom.: prof.dr. P.H.B.F. Franses.
Professional Publications
PhD Vacancies (1)
Marketing modelling for large-scale assortments
Consumers who shop (online) are often overloaded with information, choice options, web-sites, links to other web-pages, etc. Managers of (online) stores need to make many decisions: which products to sell, what prices to charge, which promotions to organize, which customers to target, etc. In principle a lot of data is available to optimize such decisions. However, both the dimension and level of detail of the data make it challenging to actually use the data. In this project you will work on the development and application of econometric marketing models that (i) can help guide practical decision making; (ii) are scalable (that is, can be estimated in a reasonable time frame); (iii) combine different data sources; and (iv) work at the individual product and/or customer level, such that customization of prices and promotions is feasible.
In this project we will seek active collaboration with Dutch or international (online) retailers. These contacts will help us target practically useful research questions and provide access to detailed data. In the ideal case we will be able to test the developed methodology in real life.
Read more
Awards (3)
---
Address
Visiting address
Office: Tinbergen Building H11-23
Burgemeester Oudlaan 50
3062 PA Rotterdam

Postal address
Postbus 1738
3000 DR Rotterdam
Netherlands