D. (Dennis) Fok
Full Professor
Erasmus School of Economics
Erasmus University Rotterdam
Member ERIM
Affiliated since 1999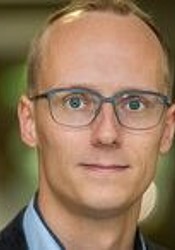 Dennis Fok is an endowed professor of applied econometrics at the Econometric Institute, the Erasmus School of Economics (ESE).
His special interest is in modelling unobserved heterogeneity, panel models, marketing econometrics, and non-linear models.
Professor Foks' research has been published widely in peer-reviewed academic journals including, among others, the Journal of Marketing Research, Marketing Science, the Journal of Econometrics, and the Journal of Applied Econometrics.
Publications (30)
Articles (25)
Palma, A. de, Abdellaoui, M., Attanasi, G., Ben-Akiva, M., Erev, I., Fehr-Duda, H., Fok, D., Fox, C., Hertwig, R., Picard, N., Wakker, P.P., Walker, J. & Weber, M. (2014).

Beware of Black Swans: Taking stock of the description - experience gap in decision under uncertainty. Marketing Letters, 25

(3), 269-280. doi: http://dx.doi.org/10.1007/s11002-014-9316-z

[go to publisher's site]
Book Contributions (2)
Fok, D., Franses, P.H.B.F. & Paap, R. (2006). Performance of seasonal adjustment procedures: simulation and empirical results. In T.C. Mills & K. Patterson (Eds.), Palgrave Handbook of Econometrics, Volume 1, Econometric Theory (pp. 1035-1055). Basingstoke: Palgrave MacMillan.

Fok, D., Franses, P.H.B.F. & Paap, R. (2002). Econometric analysis of the market share attraction model. In P.H.B.F. Franses & A.L. Montgomery (Eds.), Advances in econometrics: Econometric models in marketing, chapter 10 (Advances in Econometrics, 16) (pp. 223-256). Amsterdam: JAI Press.
Doctoral Thesis
Fok, D. (2003, November 06).

Advanced econometric marketing models.

Erasmus University Rotterdam (186 pag.) (Rotterdam: Erasmus Research Institute of Management (PhD Serie 027)). Prom./coprom.: prof.dr. P.H.B.F. Franses.
Professional Publications
Awards (3)
---
Address
Visiting address
Office: Tinbergen Building H11-23
Burgemeester Oudlaan 50
3062 PA Rotterdam

Postal address
Postbus 1738
3000 DR Rotterdam
Netherlands