H.J. (Henk) de Vries
Associate Professor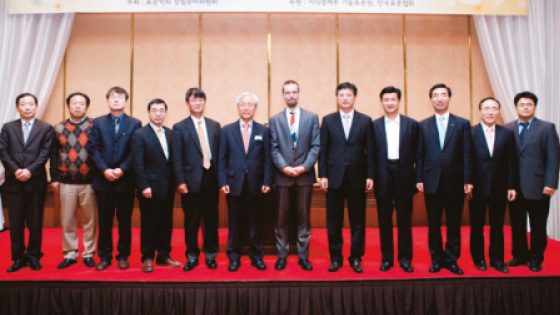 Associate professor of Standardisation
Programme:

Logistics & Information Systems
ERIM Membership:

Member ERIM, affiliated since 2001
Profile
Henk de Vries is an associate professor of standardisation at the Department of Technology and Innovation, Rotterdam School of Management, Erasmus University (RSM).

His research and teaching focuses on standardisation from a business perspective.

He is the author and co-author of more than 250 publications in the field of standardisation and is currently the president of the European Academy for Standardisation EURAS, the vice-Chair of the International Cooperation for Education on Standardization ICES, and special advisor to the International Federation of Standards Users IFAN.

Earlier in his career Professor de Vries held a number of different positions at the Netherlands Standardisation Institute NEN.
Work in progress

(2)
Kaa, G. van de, Heck, H.W.G.M. van, Vries, H.J. de, Ende, J. van den & Rezaei, J. (2014). Supporting Decision-Making in Technology Standards Battles Based on the Fuzzy Analytical Hierarchy Process. IEEE Transactions on Engineering Management.
Uijl, S. den & Vries, H.J. de (2014). Pushing technological progress by strategic manouevring: The triumph of Blu-ray over HD-DVD. Business History.
Recognitions

(15)
Editorial position

(3)

Journal
International Journal of IT Standards and Standardization Research
Role
Editor Special Issue
Start date
01-01-2005
End date
30-06-2006
Additional information
Special issue related to the session on standardisation at the Hawaii International Conference on Systems Science HICCS 2005.

---

Journal
International Journal of IT Standards and Standardization Research
Role
Member Editorial Review Board

---

Journal
International Journal of IT Standards and Standardization Research
Role
Guest Co-Editor
Start date
01-10-2006
End date
30-06-2007
Additional information
Special issue on standardisation education. Edited together with Tineke M. Egyedi, Delft Univeristy of Technology.

---

Side position

(12)

Name organisation
IGI Global, Hershey, PA, USA
Role
Member of the Editorial Board of the book series 'Advances in IT Standards and Standardisation Research Series'.
Start date
01-11-2008
Additional information
This is the main scientific book series in the field of standardisation.
Wage earning
nee

---

Name organisation
IFAN (International Federation for the Application of Standards)
Role
Special Adviser
Start date
01-01-2009
Additional information
IFAN is an independent, non profit-making international association of national organisations for the application of standards. See http://www.ifan.org.
Wage earning
ja

---

Name organisation
EURAS (European Academy for Standardisation)
Role
President
Start date
10-06-2011
Additional information
EURAS aims at promoting research and education in the field of standardisation. See http://www.euras.org.
Wage earning
nee

---

Name organisation
CEN/CENELEC/ETSI Joint Working Group on Education about Standardisation
Role
Member
Start date
10-02-2009
Additional information
CEN = Comité Européen de Normalisation, CENELEC = Comité Européen de Normalisation Electrotechnique) ETSI = European Telecommunication Standards Institute
Wage earning
nee

---

Name organisation
Dutch Acdemy for Quality
Role
Member
Start date
01-01-2007
Additional information
The mission of the DAQ is to capitalize upon the leadership and abilities of its Academicians to advance knowledge, understanding and use of quality management for the benefit of society.
Wage earning
nee

---

Name organisation
Uitgeverij Buijten & Schipperheijn, Amsterdam
Role
Member of the Editorial Board of the Christian-philosophical book series Verantwoording.
Start date
01-10-2008
Wage earning
nee

---

Name organisation
NKN (Vereniging Normalisatiekringen Nederland)
Role
Member
Start date
01-01-2004
Additional information
NKN is the association of standardisation professionals in The Netherlands
Wage earning
nee

---

Name organisation
NNK (Nederlands Netwerk voor Kwaliteitsmanagement).
Role
Member
Start date
01-01-2005
Additional information
NNK is the main association of professionals in the field of quality management in he Netherlands.
Wage earning
nee

---

Name organisation
Instituut voor CultuurEthiek
Role
Member of the Scientific Advisory Board
Start date
01-01-2004
Wage earning
nee

---

Name organisation
CSR (Civitas Studiosorum Reformatorum)
Role
Honory member and member of CSR's Advisory Board
Start date
01-11-1992
Additional information
CSR is a Christian student association in Delft, see http://www.csrdelft.nl.
Wage earning
nee

---

Name organisation
International Cooperation for Education about Standardization ICES
Role
Vice-Chair
Start date
06-07-2010
Additional information
ICES intends to promote education about standardisation and improve its quality and attractiveness for all stakeholders. See http://www.standards-education.org
Wage earning
ja

---

Name organisation
Stichting FietsNL
Role
Lid Raad van Toezicht
Start date
01-07-2011
Additional information
FietsNL biedt een erkenningsregeling voor fietsenwinkels. Dit moet de consument helpen een goede winkel te vinden en innovatie in de sector stimuleren.
Wage earning
ja

---
Visiting address
Office: T10-42
Burgemeester Oudlaan 50
3062 PA

,

Rotterdam
Netherlands
Postal address
Postbus 1738
3000 DR

,

Rotterdam
Netherlands