Dr. S.J.A. (Jolanda) Hessels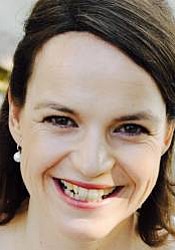 Associate Professor
Erasmus School of Economics (ESE)
Erasmus University Rotterdam
Member ERIM
Field:
Strategy & Entrepreneurship
Affiliated since 2008
Jolanda Hessels is associate professor at the department of Applied Economics at Erasmus University Rotterdam. She is also affiliated with the Erasmus Happiness Economics Research Organization (EHERO). Jolanda obtained her PhD in Economics from Erasmus University Rotterdam. Her research interests include the impact of labor market choices on work and life satisfaction, the role of foreign direct investment as a source of knowledge spillovers, and the relation between entrepreneurship, institutions and economic development.
Publications (41)
Articles (28)
J. Hessels, C.A. Rietveld, R. Thurik & P.W. van der Zwan (2018). Depression and entrepreneurial exit. The Academy of Management Perspectives, 32 (3), 323-339. doi: 10.5465/amp.2016.0183

P.W. van der Zwan, A.R. Thurik, I. Verheul & J. Hessels (2016). Factors influencing the entrepreneurial engagement of opportunity and necessity entrepreneurs. Eurasian Business Review, 6 (3), 273-295. doi: http://dx.doi.org/10.1007/s40821-016-0065-1

P. Darnihamedani & J. Hessels (2016). Human capital as a driver of innovation among necessity-based entrepreneurs. International Review of Entrepreneurship, 14 (1), 1-24.

J. Hessels (2008). Promotie. Economisch-Statistische Berichten, 93 (4543), 574.

J. Hessels (2007). Innovation and international involvement of Dutch SMEs. International Journal of Entrepreneurship and Small Business, 4 (3), 234-255.

J. Hessels (2007). Reactie op: Kentering in het denken over mondiale strategieën. Economisch-Statistische Berichten, 92 (4514S), 59.

J. Hessels, A.J. van Stel, P. Brouwer & A.R.M. Wennekers (2007). Social Security Arrangements and Early-Stage Entrepreneurial Activity. Comparative Labor Law and Policy Journal, 28 (4), 743-774.

E. Stam, K. Suddle, J. Hessels & A.J. van Stel (2007). Los emprendedores con potencial de crecimiento y el desarrollo económico. Políticas públicas de apoyo a los emprendedores [High Growth Entrepreneurs, Public Policies and Economic Growth]¿ (in Spanish). Ekonomiaz, 62 (II/06), 124-149.
Books
R. Veenhoven, E. Arampatzi, A.B. Bakker, M. Bruel, H.R. Commandeur, M. Burger, J. Das Gupta-Mannak, P. van Geest, J. van Haastrecht, M. Hendriks, J. Hessels, G.E. van Liemt, W.G.M. Oerlemans, H.W. Volberda & P.W. van der Zwan (2014). Het rendement van geluk: Inzichten uit wetenschap en praktijk. Den Haag: Stichting Maatschappij en Onderneming
Book Contributions (6)
W. Hulsink, J. Hessels & K. Suddle (2011). Building entrepreneurial platforms and innovative hotspots: science and technology-based regional development in the Netherlands. In S. Mian (Ed.), Science and technology-based regional entrepreneurship. Global experiences in policy and program development (pp. 209-233). Edward Elgar

J. Hessels, M.W. van Gelderen & A.R. Thurik (2011). Entrepreneurial Aspirations, Motivations, and their Drivers (reprint). In P Davidsson, S Gordon & H Bermann (Eds.), Nascent Entrepreneurship (International Library of Entrepreneurship Series) (pp. 250-265). Cheltenham, UK and Northampton, MA, US: Edward Elgar Publishing Limited

J. Hessels & M.W. van Gelderen (2010). New business creation in the Netherlands. In P.D. Reynolds & R.T. Curtin (Eds.), New Business Creation: An International Overview (pp. 175-192). New York City: Springer

E. Stam, K. Suddle, J. Hessels & A.J. van Stel (2009). High-growth entrepreneurs, public policies, and economic growth. In J. Leitao & R. Baptista (Eds.), Public Policies for Fostering Entrepreneurship. A European Perspective (International Studies in Entrepreneurship, 22) (pp. 91-110). New York: Springer

J. Hessels & A.J. van Stel (2008). Global Entrepreneurship Monitor and entrepreneurs' export orientation. In E. Congregado (Ed.), Measuring Entrepreneurship: Building a Statistical System (International Studies in Entrepreneurship, 16) (pp. 265-278). New York: Springer Science

J. Hessels (2008). Internationalization of Dutch SMEs. In L. Dana, I.M. Welpe, M. Han & V. Ratten (Eds.), Handbook of Research on European Business and Entrepreneurship (pp. 494-512). Cheltenham: Edward Elgar
Professional Publications (5)
P.W. van der Zwan & J. Hessels (2014). Ondernemerschap en geluk. In Het rendement van geluk: Inzichten uit wetenschap en praktijk (SMO & EHERO) (pp. 73-86). Meppel: Ten Brink B.V.

J. Hessels & W. Naude (2014). Slagingskans bedrijfsoprichting afhankelijk van ondernemersvaardigheden. Economisch-Statistische Berichten, 99 (4692), 534-536.

P.W. van der Zwan, J. Hessels, B. Hoogendoorn & N. de Vries (2013). The Global Entrepreneurship Monitor The Netherlands 2012. (Extern rapport, H201314). Zoetermeer: Panteia/EIM

P.W. van der Zwan, J. Hessels, A.J. van Stel & A.R.M. Wennekers (2012). The Global Entrepreneurship Monitor 2011 The Netherlands. (Extern rapport, A201211). Zoetermeer: Panteia/EIM

Y.M. Prince, J. Hessels, P.H.M. van Hoesel & C.C. van de Graaff (2006). Een blik op MKB en Ondernemeschap in 2015. Scenario's op basis van de CPB-vergezichten voor de Nederlandse economie. (Extern rapport). Zoetermeer: EIM
PhD Tracks (2)

Role: Daily Supervisor
PhD Candidate: Pourya Darnihamedani
Time frame: 2012 - 2016

Role: Daily Supervisor
PhD Candidate: Mohammadreza Khodatars
Time frame: 2018 -
---
Address
Visiting address
Office: Tinbergen Building H12-20
Burgemeester Oudlaan 50
3062 PA Rotterdam
Postal address
Postbus 1738
3000 DR Rotterdam
Netherlands