K.I.M. (Kars Iddo Maik) Schouten MSc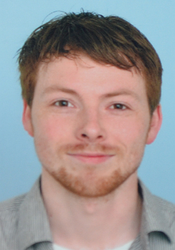 Erasmus School of Economics (ESE)
Erasmus University Rotterdam
ERIM PhD Candidate
Field:
Logistics & Information Systems
Affiliated since 2012
PhD Track Time-Based Aspect-Level Sentiment Analysis (TALSA)
With opinions and expressions of sentiment available in abundance on the Web, algorithms that can deal with this kind of subjective information abound. While several approaches exist that perform aspectlevel sentiment analysis, which associates the expressed sentiment to aspects and entities instead of linguistic constructs like sentences or documents, the temporal dimension is still lacking. By incorporating the temporal aspect of sentiment, we can correctly aggregate sentiment expressed at varying points in time and perform trend analysis by looking at how sentiment changes over time. The main goal is to gather sentiment information from the Web and aggregate it into knowledge that is useful for business applications such as product marketing, product comparison, or reputation management of a company, brand, or person. Our hypothesis is that an incremental, online machine learning model is particularly well suited to capture these temporal elements in addition to performing aspect-level sentiment analysis as defined in the current literature.
Keywords

text mining; linguistic processing; machine learning; text analysis; sentiment analysis; aspects; temporal dimension

Time frame

2012 -
Publications (27)
Articles (22)
Kim Schouten, F. Baas, O. Bus, A. Osinga, N. van de Ven, S. van Loenhout, V. Vrolijk & F. Frasincar (2016).

Aspect-Based Sentiment Analysis Using Lexico-Semantic Patterns.

In

17th International Conference on Web Information Systems Engineering (WISE 2016) Vol. 10042. Lecture Notes in Computer Science

(pp. 35-42). Springer

K.I.M. Schouten, F. Frasincar & F.M.G. de Jong (2016). COMMIT at SemEval-2016 Task 5: Sentiment Analysis with Rhetorical Structure Theory. In 10th International Workshop on Semantic Evaluation (SemEval 2016) (pp. 356-360). ACL

O. Kovalenko, Y. Mrabet, Kim Schouten & S. Sejdovic (2015). Linked Data in Action: Personalized Museum Tours on Mobile Devices. In ESWC Developers Workshop 2015 (pp. 14-19). CEUR-WS.org

K.I.M. Schouten & F. Frasincar (2013). A Dependency Graph Isomorphism for News Sentence Searching. In 18th International Conference on Applications of Natural Language to Information Systems (NLDB 2013) Vol. 7934. Lecture Notes in Computer Science (pp. 384-387). Springer

K.I.M. Schouten & F. Frasincar (2013). A Linguistic Graph-Based Approach for Web News Sentence Searching. In Database and Expert Systems Applications Vol. 8056. Lecture Notes in Computer Science (pp. 57-64). Springer

F.P. Hogenboom, A.C. Hogenboom, F. Frasincar, U. Kaymak, O. v.d. Meer, K.I.M. Schouten & D. Vandic (2010).

SPEED: A Semantics-Based Pipeline for Economic Event Detection.

In J. Parsons, M. Saeki, P. Shoval, C. Woo & Y. Wand (Eds.),

Conceptual Modeling - ER 2010 Vol. 6412. Lecture Notes in Computer Science

(pp. 452-457). Vancouver, British Columbia, Canada: Springer

K.I.M. Schouten, P. Ruijgrok, J. Borsje, F. Frasincar, L. Levering & F.P. Hogenboom (2010).

A Semantic Web-Based Approach for Personalizing News.

In W. Chu, W.E. Wong, M.J. Palakal & C.-C. Hung (Eds.),

Twenty-Fifth Symposium on Applied Computing (SAC 2010)

(pp. 854-861). ACM
Events (3)
PhD Defence
As: Speaker, Contact
ERIM Conference
As: Coordinator
---
Address
Visiting address
Office: Tinbergen Building H09-09
Burgemeester Oudlaan 50
3062 PA Rotterdam
Postal address
Postbus 1738
3000 DR Rotterdam
Netherlands