Prof. dr. P. (Patrick) Verwijmeren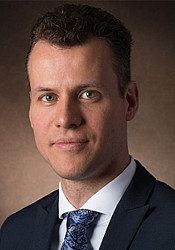 Full Professor
Erasmus School of Economics (ESE)
Erasmus University Rotterdam
Member ERIM
Field:
Finance & Accounting
Affiliated since 2005
Patrick Verwijmeren is a Professor of Corporate Finance at the Erasmus School of Economics (Erasmus University Rotterdam).
Patrick specializes in convertible securities, short sales, corporate governance, and capital structure.
You can find more information on his personal website:
https://sites.google.com/site/patrickverwijmeren/
He has publications in Journal of Finance, Review of Financial Studies, Journal of Financial Economics, Journal of Financial and Quantitative Analysis, and Review of Finance, among others. Patrick has presented at many international conferences, including the WFA, AFA, and EFA meetings, and has been a speaker at TEDx.
His research on proxy access has been cited in final rulings by the U.S. Securities and Exchange Commission and Patrick has also been involved in writing a report for the Dutch Ministry of Finance on the influence of hedge funds. In 2013, Patrick received the prestigious Netherlands Organization for Scientific Research VIDI grant.
Publications (40)
Articles (37)
R. Adams, A. Akyol & P. Verwijmeren (2018). Director skill sets. Journal of Financial Economics, Accepted.

M.D.R.P. Dutordoir, E. Li, F. Liu & P. Verwijmeren (2016). Convertible bond announcement effects: Why is Japan different? Journal of Corporate Finance, 37, 76-92. doi: http://dx.doi.org/10.1016/j.jcorpfin.2015.12.006

P. Verwijmeren (2015). Forensisch financieel onderzoek. MAB, 89 (4), 149-154.

P. Verwijmeren (2010). Dating preferences. Interface, 24 (3).

A. De Jong, M.A. Rosellon & P. Verwijmeren (2006). De invloed van IFRS op preferente aandelen in Nederland. MAB, 80 (7/8), 336-342.

P. Verwijmeren (2005). It's all about the figures? Interface, 22 (1), 18-19.
Professional Publications (2)
A. De Jong, P.G.J. Roosenboom, M.J.C.M. Verbeek & P. Verwijmeren (2007). Hedgefondsen en private equity in Nederland. (Extern rapport). Den Haag: Ministerie van Financien

P. Verwijmeren & M.A. Rosellon (2005). De invloed van IFRS op de bedrijfsvoering. Finance en Control, 2005 (december), 56-59.
Awards (2)
---
Address
Visiting address
Office: Tinbergen Building H14-27
Burgemeester Oudlaan 50
3062 PA Rotterdam
Postal address
Postbus 1738
3000 DR Rotterdam
Netherlands