dr. R. (Rodrigo) Belo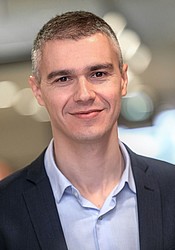 Rotterdam School of Management (RSM)
Erasmus University Rotterdam
Member ERIM
Field:
Logistics & Information Systems
Affiliated since 2015
Rodrigo Belo is Assistant Professor at the Department of Technology and Operations Management at Rotterdam School of Management of the Erasmus University.
Rodrigo's research focuses on the effects of information systems on organizations and on the impacts of social network structures and peer influence on consumer behavior. His work has been published in top journal and peer-reviewed conferences such as Management Science, the Workshop of Information Systems and Economics, and the IEEE Conference on Social Computing. Rodrigo has lead and collaborated in multiple projects with established firms and startups in the online and telecommunications sectors. His engagements include the design and deployment of large-scale real world randomized experiments to assess the effectiveness of marketing campaigns and to optimize online user engagement.
Rodrigo holds a PhD in Technological Change and Entrepreneurship from Carnegie Mellon University, an MSc in Engineering and Public Policy from Carnegie Mellon University, and a BSc in Computer Science and Engineering from Instituto Superior Técnico, University of Lisbon. Before joining the academia Rodrigo worked as a software engineer and analyst in the transportation and government sectors. 
Work in Progress (6)
R. Belo & P.M. Ferreira (2018). Peer Influence in Products with Network Externalities: Empirical Evidence from a Large Mobile Network (2nd round journal review).
R. Belo, P.M. Ferreira & M. Godinho de Matos (2018). Price Discounts and Peer Effects in Information Goods: Results from An In-vivo Organic Randomized Experiment (under journal review).
P.M. Ferreira, X. Zhang, R. Belo & M. Godinho de Matos (2018). Welfare Properties of Recommender Systems: Theory and Results from a Randomized Experiment (under minor revision).
R. Belo & Ting Li (2018). Referral Policies for Platform Growth: A Randomized Experiment in an Exclusive Online Dating Site.
Z. Cao & R. Belo (2018). Effects of Disclosing Sponsorship on User Engagement in Social Media.
T. Frick, R. Telang & R. Belo (2018). Pay For What You Get - Incentive Misalignments in Programmatic Advertising: Evidence from a Randomized Field Experiment.
Publications (5)
Articles (4)
M. Godinho de Matos, P.M. Ferreira & R. Belo (2018). Target the ego or target the group: Evidence from a randomized experiment in proactive churn management. Marketing Science, Accepted.

R. Belo, M. Godinho de Matos, P.M. Ferreira & F. Reis (2018). The Impact of Time-Shifting on TV Viewership and on Ad Consumption. Management Science, Accepted.
Professional Publications
Recognition (1)
Side positions
Heinz College

Invited Researcher
---
Address
Visiting address
Office: Mandeville Building T09-20
Burgemeester Oudlaan 50
3062 PA Rotterdam
Postal address
Postbus 1738
3000 DR Rotterdam
Netherlands