dr. S.P. (Steve) Kennedy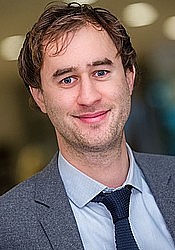 Rotterdam School of Management (RSM)
Erasmus University Rotterdam
Steve Kennedy is Associate Professor researching corporate sustainability, climate change and sustainability-oriented innovation at Rotterdam School of Management, Erasmus University. Dr Kennedy's current research interests include how corporate sustainability strategies are translated into successful innovation and the formation of future-ready sustainable business models. His research has featured in peer-reviewed scientific journals such as Journal of Management Studies, Long Range Planning and Journal of Cleaner Production.  Dr Kennedy is the Scientific Director of the Centre for Eco-Transformation and Academic Director of the MSc Global Business & Sustainability. He teaches courses such as 'Climate Change Strategy Role-Play' and 'Sustainability Leadership and Planetary Boundaries'.
PhD Tracks (2)
Role: Daily Supervisor
PhD Candidate: Ona Akemu
Time frame: 2011 - 2017
Role: Daily Supervisor
PhD Candidate: Amanda Williams
Time frame: 2013 - 2018
Recognitions (5)
Editorial positions (4)
Journal of Business Ethics

Ad Hoc Reviewer

Journal of Management Inquiry

Ad Hoc Reviewer

Journal of Cleaner Production

Ad Hoc Reviewer

Sustainability Accounting, Management and Policy Journal

Ad Hoc Reviewer
Organization Memberships
Academy of Management

Member
Course (1)
Past
Sustainability Leadership & Planetary Boundaries (2017/2018, 2016/2017)
PhD Vacancy (1)
This project focuses on the circular business model innovation process. While scholars have ably identified a range of circular business model archetypes, little is known of how companies select or innovate the business model(s) to implement.
The core objective of this project is to identify and form a detailed understanding of the phases to the circular business model innovation process (i.e. ideation, selection, development etc) and provide insight to the challenges and facilitators from front-end innovation to the implementation of the business model. 
The project will identify key organisational practices of circular business model innovation and aims to form explanations of how firms manage the inherent complexity and uncertainty. The research aims to explain how factors such as firm competencies, marketplace environments and product type restrictions are taken into consideration and what tools and (new) competencies are required by firms to lead to effective outcomes.
Read more
Events (2)
Research Seminar
As: Contact, Coordinator
Research Seminar
As: Contact, Coordinator
---
Address
Visiting address
Office: Mandeville Building T11-44
Burgemeester Oudlaan 50
3062 PA Rotterdam
Postal address
Postbus 1738
3000 DR Rotterdam
Netherlands