S.T.L.R. (Steven) Sweldens
Endowed Professor
RSM - Rotterdam School of Management
Erasmus University Rotterdam
Fellow ERIM
Affiliated since 2004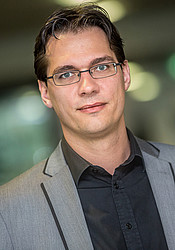 Steven Sweldens is Professor of Consumer Behavior and Marketing at RSM Erasmus University and Distinguished Research Fellow at INSEAD. 
Steven's research interests center on the psychological laws underlying advertising and the creation of brand attitudes. The importance of this research was recognized with several awards, winning for example the EMAC McKinsey Award for the best European Marketing Dissertation, was runner-up for the American Marketing Association John A. Howard Award for the worldwide best marketing dissertation, and won several Dutch national awards. His work was published in the top scientific journals in marketing (Journal of Consumer Research, Journal of Marketing Research), psychology (Journal of Experimental Psychology: General, Personality and Social Psychology Review) and OB (Organizational Behavior and Human Decision Processes).
After obtaining his PhD at the Erasmus Research Institute in Management in 2009, Steven became a marketing professor at INSEAD. There he taught courses in marketing strategy (MBA), social psychological foundations of management (PhD), experimental design (PhD) and marketing in the financial sector (executive education). His teaching skills were lauded repeatedly with the INSEAD Dean's Commendation for Excellence in MBA Teaching. He published a case study on the Renova Paper Company, which became an instant best-seller and won the highest award at the ECCH Case Awards in 2012 as the fastest selling new case in business education.
In 2014, Steven returned to RSM Erasmus University where he teaches the marketing core course in RSM's MBA and EMBA programs.
Recognitions (6)
Editorial positions
Journal of Consumer Research

Member Editorial Board
Organization Membership
Society for Consumer Psychology

Member

European Marketing Academy

Member

American Psychological Association

Member

Association for Consumer Research

Member
Side positions
INSEAD

Distinguished Research Fellow
PhD Vacancies (1)
Doctoral Research in Consumer Behavior
Consumer behavior is the study of the full range of human interactions with products, services, their providers, and the marketing activities associated with them. The Consumer Behavior research group of the Department of Marketing Management at Rotterdam School of Management (Erasmus University) is seeking a highly motivated PhD student who desires to pursue an academic career studying consumer behavior. A strong applicant is highly motivated to conduct novel research within the field of consumer behavior/psychology, has a background in psychology, business, statistics, or a related field, and desires to pursue an international career as a leading academic researcher. The project will enable the PhD student to develop new theories about consumer behavior/psychology and support those theories with quantitative research. The project will be defined by the student and the advisors together and thus requires creativity, self-direction, and passion for scientific research.
Read more
---
Address
Visiting address
Office: Mandeville Building T10-20
Burgemeester Oudlaan 50
3062 PA Rotterdam

Postal address
Postbus 1738
3000 DR Rotterdam
Netherlands