Dr. T.A.B. (Twan) Dollevoet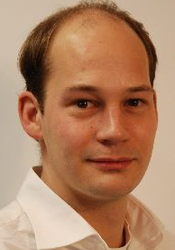 Erasmus School of Economics (ESE)
Erasmus University Rotterdam
Member ERIM
Field:
Logistics & Information Systems
Affiliated since 2008
Twan Dollevoet is associate professor at the Econometric Institute of the Erasmus School of Economics. His research focuses on applications of combinatorial optimization, most notably in railway optimization and transportation in general.
Work in Progress
G.J. Polinder, T. Breugem, T.A.B. Dollevoet & G. Maroti (2018). An Adjustable Robust Optimization Approach for Periodic Timetabling. (Preprints). :
Publications (15)
Doctoral Thesis
T.A.B. Dollevoet (2013, januari 10).

Delay management and dispatching in railways.

Erasmus University Rotterdam (144 pag.) (Rottterdam: Erasmus Research Institute of Management (PhD Serie 272)) Prom./coprom.: prof.dr. A.P.M. Wagelmans & prof.dr. D. Huisman.
PhD Tracks (2)

Role: Daily Supervisor
PhD Candidate: Thomas Breugem
Time frame: 2015 -

Role: Co-promotor
PhD Candidate: Rowan Hoogervorst
Time frame: 2016 -
---
Address
Visiting address
Office: Tinbergen Building H11-10
Burgemeester Oudlaan 50
3062 PA Rotterdam
Postal address
Postbus 1738
3000 DR Rotterdam
Netherlands