T.A.B. (Twan) Dollevoet
Erasmus School of Economics
Erasmus University Rotterdam
Member ERIM
Field:
Logistics & Information Systems
Affiliated since 2008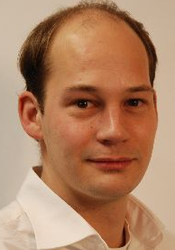 Twan Dollevoet is assistant professor at the Econometric Institute of the Erasmus School of Economics. His research focuses on applications of combinatorial optimization, most notably delay management for railway operators. In cooperation with Netherlands Railways -the largest railway operator in the Netherlands- he tries to minimize the average delay for passengers by considering connections between trains.
Publications (12)
Articles (11)
Dollevoet, T.A.B., Huisman, D., Kroon, L.G., Veelenturf, L.P. & Wagenaar, J.C. (2017).

Application of an Iterative Framework for Real-time Railway Rescheduling. Computers and Operations Research, 78

, 203-217. doi: http://dx.doi.org/10.1016/j.cor.2016.08.011

Quaglietta, E., Pelligrini, P., Goverde, R.M.P., Albrecht, T., Jaekel, B., Marlière, G., Rodriguez, J., Dollevoet, T.A.B., Ambrogio, B., Carcasole, D., Giaroli, M. & Nicholson, G (2016).

The ON-TIME real-time railway traffic management framework: a proof-of-concept using a scalable standardised data communication architecture. Transportation Research. Part C, Emerging Technologies, 63

, 23-50. doi: http://dx.doi.org/10.1016/j.trc.2015.11.014

Dollevoet, T.A.B., Huisman, D., Kroon, L.G., Schmidt, M.E. & Schöbel, A. (2015).

Delay Management including Capacities of Stations. Transportation Science, 49

(2), 185-203. doi: http://dx.doi.org/http://dx.doi.org/10.1287/trsc.2013.0506

[go to publisher's site]

Abbink, E.J.W., Albino, L., Dollevoet, T.A.B., Huisman, D., Roussado, J. & Saldanha, R.L. (2011).

Solving Large Scale Crew Scheduling Problems in Practice. Public Transport, 3

(2), 149-164. doi: http://dx.doi.org/10.1007/s12469-011-0045-x
Doctoral Thesis
Dollevoet, T.A.B. (2013, Januari 10).

Delay management and dispatching in railways.

Erasmus University Rotterdam (144 pag.) (Rottterdam: Erasmus Research Institute of Management (PhD Serie 272)). Prom./coprom.: prof.dr. A.P.M. Wagelmans & prof.dr. D. Huisman.
PhD Projects (3)

Role: Daily Supervisor
PhD Candidate: Thomas Breugem
Time frame: 2015 -
Role: PhD Candidate
PhD Candidate: Twan Dollevoet
Time frame: 2008 - 2013
Events (2)
PhD Defence ERIM Doctoral Programme
---
Address
Visiting address
Office: Tinbergen Building H11-10
Burgemeester Oudlaan 50
3062 PA Rotterdam

Postal address
Postbus 1738
3000 DR Rotterdam
Netherlands