V.J.A. (Vareska) van de Vrande
Rotterdam School of Management (RSM)
Erasmus University Rotterdam
Member ERIM
Field:
Strategy & Entrepreneurship
Affiliated since 2007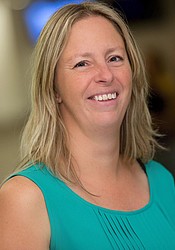 Vareska van de Vrande is an Associate Professor of Strategic Management at Rotterdam School of Management, Erasmus University. Vareska holds a MSc and PhD (2007) in Industrial Engineering and Management Science from the Eindhoven University of Technology. Her research focuses on several aspects of corporate entrepreneurship, such as the use of different organizational forms for external technology sourcing, corporate venture capital investments, strategic alliances, joint ventures, and mergers and acquisitions. Other research interests include open innovation and corporate venturing.
Publications (20)
Articles (10)
Vanhaverbeke, W., Vrande, V.J.A. van de & Chesbrough, H.W. (2008). Understanding the advantages of open innovation practices in corporate venturing in terms of real options. Creativity and Innovation Management, 17 (4), 251-258.

Vrande, V.J.A. van de, Lemmens, C. & Vanhaverbeke, W. (2006). Choosing governance modes for external technology sourcing. R and D Management, 36 (3), 347-363.
Book Contributions (4)
Brunswicker, S. & Vrande, V.J.A. van de (2014). Exploring Open Innovation in Small and Medium-Sized Enterprises. In H Chesbrough, W Vanhaverbeke & J West (Eds.), Exploring the next wave of open innovation research. Cheltenham: Edward Elgar.

Burgers, J.H. & Vrande, V.J.A. van de (2011). Who is the Corporate Entrepreneur? Insights from Opportunity Discovery and Creation Theory. In S. Zahra (Ed.), Handbook of Corporate Entrepreneurship. Edward Elgar.

Vrande, V.J.A. van de (2008). The Importance of Internal Alignment for Open Innovation. In Open Innovation: The New Business Strategy. Hyderabad: Icfai University Press.

Halman, J., Ulijn, J., Vrande, V.J.A. van de & Umbach, F. (2007). The importance of cooperation and support for technology start-ups: a comparison of the Eindhoven and Darmstadt areas. In Entrepreneurship, cooperation and the firm: the emergence and survival of high tech ventures in Europe (pp. 261-286). Cheltenham: Edward Elgar.
Doctoral Thesis
Vrande, V.J.A. van de (2007, November 07). Not invented here: managing corporate innovation in a new era. TUE (Eindhoven: Eindhoven Centre for Innovation Studies). Prom./coprom.: Prof.Dr. G.M. Duysters & W. Vanhaverbeke.
Professional Publications (4)
Vrande, V.J.A. van de & Man, A.P. de (2010). Embracing Open Innovation. In Innovation EU, Vol. 2-1. London: Innovation Europe.

Vrande, V.J.A. van de & Vanhaverbeke, W. (2006). Innoveren door Externe Innovatie. In VMA Jaarboek 2006 (pp. 38-45).

Rochemont, M. de & Vrande, V.J.A. van de (2006). Open Innovatie en de Rol van Corporate Venture Capital. In J. Sistermans (Ed.), Open stellingen: Essays over Open Innovatie (pp. 57-64). Den Haag: Quantes.
Semi Scientific Publications
Hynes, N. & Vrande, V.J.A. van de (2013, December 31). When going Dutch means a free lunch: how Australians could build social capital. The Conversation
PhD Projects (1)
Role: Daily Supervisor
PhD Candidate: Pengfei Wang
Time frame: 2011 -
---
Address
Visiting address
Office: Mandeville Building T07-30
Burgemeester Oudlaan 50
3062 PA Rotterdam

Postal address
Postbus 1738
3000 DR Rotterdam
Netherlands