PhD Defence: Lisanne van Bunderen
---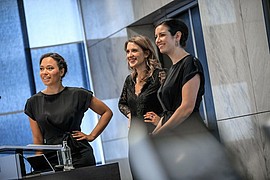 About Lisanne van Bunderen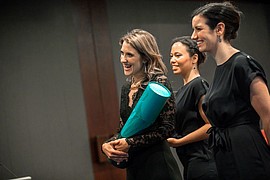 Lisanne van Bunderen obtained her Bachelor's and Research Master's degree in Social Psychology (both cum laude) from the University of Amsterdam. In 2013, she started her PhD project at the Erasmus Research Institute of Management, Erasmus University Rotterdam with dr. Lindred Greer and Professor Daan van Knippenberg.
In her dissertation, she examines why and when power struggles arise in organizational teams. For this, she draws on a variety of both social psychological as management literatures, and develops an overarching framework with which she theorizes that the combination of a threatening team environment and an individualistic internal team structure makes teams fall prey to team performance-detracting power struggles.
Lisanne presented her research at several international conferences, including the Academy of Management Annual Meetings, the annual meetings of the International Association of Conflict Management, the annual INGRoup-meeting, and the meeting of the European Association of Social Psychology. Her work has been published in the Academy of Management Journal and the journal of Research in Organizational Behavior.
Many organizational teams get tormented by performance-detracting power struggles. In this dissertation, I aim to unravel why and when power struggles emerge within organizational teams. I draw on individual-level research on power and integrate this with the diverse literatures on group threats and team (power) structures to theorize that power may be sought after as a protection-tool when members feel threatened and are motivated by the team structure to cope with this threat in individualistic manners. Accordingly, I developed an overarching framework in which I propose that the combination of a threatening team environment with an individualistic team structure encourages intra-team power struggles. I tested and found support for this overarching framework with three studies that examined the combined effects of team threats (i.e., inter-team conflict in chapter 2, team uncertainty in chapter 3, and organizational change in teams in chapter 4) and internal team structures (i.e., intra-team power structures in chapter 2 and 4 and intra-team outcome interdependence in chapter 3). The research in my dissertation has both important theoretical as well as practical implications.
Photos: Chris Gorzeman / Capital Images