Workplace Morality: Behavioral Ethics in Organizations
---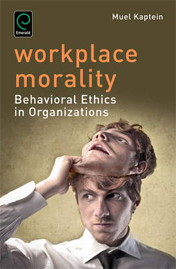 By Muel Kaptein
Abstract
Why do honest and decent employees sometimes overstep the mark? What makes managers with integrity go off the rails? What causes well-meaning organizations to deceive their clients, employees and shareholders?
Social psychology offers surprising answers to these intriguing and timely questions. Drawing on scientific experiments and examples from business practice, Muel Kaptein discusses why good people sometimes do bad things and how they rise above this behaviour. He explains why cheats wear sunglasses, why overstepping the mark could be a good thing, how a surplus of rules creates offenders and why we should be suspicious of colleagues who wash their hands after meetings.
Kaptein's easily digestible work reflects on 52 cases categorized by clarity, role-modelling, achievability, commitment, transparency, openness and enforcement. In his chapter Bagels at work: honesty and dishonesty, Kaptein considers whether it's easier to resist small or large temptations. Download an excerpt.
Endorsements
"Kaptein's book goes straight to the shortlist of the 'Management Book of the Year' election early next year, and is a contender for the title." - Management Team (Netherland's most read management magazine)
"Professor Kaptein has written a very intelligent account of what I would call the 'social psychology of ethical dilemmas'. The short and concise chapters not only give abundant illustrations of why people do bad things (the moral dimension), but also include creative experiments through which some of these behaviorist dilemmas can be realistically managed (the practical dimension). A stimulating and thought-provoking read!" - Rob van Tulder, Professor of International Business-Society Management
About Muel Kaptein
Muel Kaptein has worked as an academic and consultant in business ethics since 1991. In his current position as partner at KPMG, together with colleagues, he supports organizations in investigating and improving their integrity, soft controls, fraud risk management, compliance, and sustainability.
Muel is also professor of business ethics and integrity management at the Erasmus University of Rotterdam. His research focuses on areas such as measuring and managing integrity in organizations, and he teaches courses in leadership, sustainability, and governance.
Muel has published more than 40 articles in international scientific journals such as Academy of Management Review, Human Relations, Journal of Organizational Behavior, and Journal of Management. He is co-editor of the Journal of Business Ethics. Muel is author and co-author of various books including Ethics Management(Springer, 1998), The Balanced Company (Oxford University Press, 2002), The Six Principles for Managing with Integrity (Articulate Press, 2005), and The Living Code(Greenleaf, 2008).
Links