dr.ir. N.A.H. (Niels) Agatz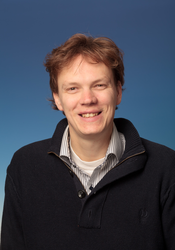 Rotterdam School of Management (RSM)
Erasmus University Rotterdam
Member ERIM
Field:
Logistics & Information Systems
Affiliated since 2004
Niels Agatz is an associate professor of transportation and logistics at the Rotterdam School of Management, Erasmus University, where he also serves as the academic director of the MSc program in Supply Chain Management. His research focusses on planning and control of transportation and logistics systems. He is particularly interested in new applications in last-mile delivery, e-fulfillment, ridesharing and on-demand transportation. His research has been published in leading academic journals as Transportation Science and Transportation Research Part B. Niels leads various funded research projects in close collaborated with several industry partners. Before joining the Rotterdam School of Management, he worked as a postdoctoral researcher at the School of Industrial Engineering of the Georgia Institute of Technology. Niels Agatz obtained his MSc in Industrial Engineering from the Eindhoven University of Technology and his PhD from the Rotterdam School of Management, Erasmus University.
Work in Progress
P.C. Bouman, N.A.H. Agatz & M.E. Schmidt (2018). Dynamic Programming Approaches for the Traveling Salesman Problem with Drone. (Preprints). : SSRN
Publications (20)
Book Contributions
N.A.H. Agatz, A.M. Campbell, M. Fleischmann & M.W.P. Savelsbergh (2008). Challenges and Opportunities in Attended Home Delivery. In B. Golden, R. Raghavan & E. Wasil (Eds.), The Vehicle Routing Problem: Latest Advances and New Challenges (pp. 370-396). New York: Springer
Doctoral Thesis
N.A.H. Agatz (2009, april 2).

Demand management in E-fulfillment.

Erasmus University Rotterdam (192 pag.) (Rotterdam: Erasmus Research Institute of Management (PhD Serie 163)) Prom./coprom.: Prof.Dr.Ir. J.A.E.E. van Nunen & dr. M. Fleischmann.
Professional Publications (2)
PhD Tracks (3)
Role: Daily Supervisor
PhD Candidate: Alp Arslan
Time frame: 2014 -

Role: Daily Supervisor
PhD Candidate: Joydeep Paul
Time frame: 2015 -

Role: Daily Supervisor
PhD Candidate: Anirudh Kishore Bhoopalam
Time frame: 2016 -
---
Address
Visiting address
Office: Mandeville Building T09-19
Burgemeester Oudlaan 50
3062 PA Rotterdam
Postal address
Postbus 1738
3000 DR Rotterdam
Netherlands