R. (Rommert) Dekker
Full Professor
Erasmus School of Economics
Erasmus University Rotterdam
Fellow ERIM
Field:
Logistics & Information Systems
Affiliated since 1999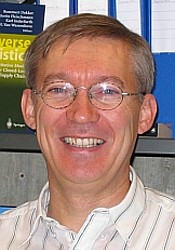 Rommert Dekker is a professor of operations research, quantitative logistics, and IT at the Erasmus School of Economics (ESE).
Professor Dekker currently leads an industry-sponsored research program on service logistics.
He has received numerous accolades for his research including ERIM's impact award which honours ERIM researchers who have successfully impacted management practice and the OR Society's Goodeeve medal for best applied paper.
Professor Dekker began his career working at Shell Research. During his seven years at the company he published over 100 papers on topics including reverse logistics, service logistics, inventory control, maintenance optimisation, container logistics and transport optimisation. He was also co-founder of the well-known network for reverse logistics REVLOG.
Work in Progress (6)
Hekimoglu, M., van der Laan, E. & Dekker, R. (2015). Secondary markets: A potential supply source or a fierce competitor? Not yet defined.

Hekimoglu, M., Dekker, R. & van der Laan, E. (2015). Spare Parts Inventory Control Under Markov Modulated Supply Risk. Production and Operations Management, Submitted.

Heij, C., Kim, T.Y. & Dekker, R. (2015). The value of express delivery services for cross-border e-commerce in European Union markets. (Preprints). : .

Riessen, B., Negenborn, R.R. & Dekker, R. (2015). Real-time Container Transport Planning with Decision Trees based on Offline Obtained Optimal Solutions. (Preprints). : .

Zhu, S., Dekker, R., Jaarsveld, W.L. van, Wang, R. & Koning, A.J. (2015). An Improved Method for Forecasting Spare Parts Demand using Extreme Value Theory. (Preprints). : .

Kim, T.Y., Dekker, R. & Heij, C. (2014). Spare part demand forecasting from installed base for consumer goods. (Preprints). : Submitted.
Recognitions (3)
Editorial positions
Mathematical Methods of Operations Research

Editorial Board

IMA Journal on Mathematics Applied in Business and Industry

Editorial Board
Side positions
Lnmb

chairman of daily board
PhD Vacancies (2)
Analysis of the effect of the Ultra Large Container Ship on container terminals
Recently ultra large container ships (20.000 TEU or more) have been ordered by several carriers. Although these will certainly decrease the shipping costs it may also be that terminals and port authorities have to do large investments to handle the higher peaks in containers to be handled. In this project we will analyse the consequences of these large ships on four aspects. First we will take a carrier's view and look when and where these ships can be employed successfully in their liner networks. Next we will investigate whether the port calls (i.e. the number of containers to be loaded and unloaded in one port) will also increase. This will be done using existing databases on container port OD demands and future scenarios, together with network optimisation procedures. Thirdly we investigate the effects on terminal operations. This will be done using existing simulation and operations analysis methods. Finally we will consider the effects on hinterland transportation. We will take the recent OECD report on the issue as starting point, but plan to do a more in-depth analysis of operations, supported by terminal operators and the Port of Rotterdam Authorities. The main methodology will be the use of quantitative models, describing operations and transportation. We will build forth on earlier work on designing liner networks, terminal operations and hinterland transportation. Although many methods can be used directly, it is also envisaged that new elements have to be incorporated in the models and methods need to be made faster.
Read more
Pro-active service logistics for capital goods - the next steps (ProSeLoNext)
We focus on proactive service logistics for capital goods, i.e., we aim to orchestrate all aspects of the after sales service; the challenge lies in the consistent control of all elements, such as call centers, (remote) diagnostics, service engineers, spare parts, and tools. Proactive service logistics is required to prevent downtime of capital assets, exploiting developments such as data analytics and the internet of things, and a transition of the responsibility for the availability of assets from users to original equipment manufacturers (OEMs) or third party service providers. The consortium that has successfully collaborated for many years, most recently in the ProSeLo project, therefore proposes a project consisting of three work packages:
Predictive maintenance and service logistics: By (remotely) monitoring assets, timely maintenance and efficient service logistics becomes possible. Interesting models have been developed for this, partly in the ProSeLo project; we aim to apply these in two pilot studies and to use the results to improve the models.
Service business models: When an OEM or service provider assumes responsibility for maintenance and service logistics (i.e., the availability) of assets, both involved parties have their own interests that need to be aligned. That is the goal of this work package.
Service control towers: Coordinated management requires service control towers to be constructed. We focus on operational decision making in dynamically changing situations, as requested in particular by companies in response to the need to quickly.
Read more
Awards (2)
---
Address
Visiting address
Office: Tinbergen Building H11-33
Burgemeester Oudlaan 50
3062 PA Rotterdam

Postal address
Postbus 1738
3000 DR Rotterdam
Netherlands