R. (Rommert) Dekker
Full Professor
Erasmus School of Economics
Erasmus University Rotterdam
Fellow ERIM
Field:
Logistics & Information Systems
Affiliated since 1999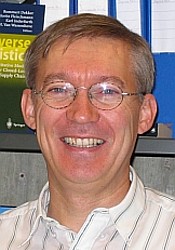 Rommert Dekker is a professor of operations research, quantitative logistics, and IT at the Erasmus School of Economics (ESE).
Professor Dekker currently leads an industry-sponsored research program on service logistics.
He has received numerous accolades for his research including ERIM's impact award which honours ERIM researchers who have successfully impacted management practice and the OR Society's Goodeeve medal for best applied paper.
Professor Dekker began his career working at Shell Research. During his seven years at the company he published over 100 papers on topics including reverse logistics, service logistics, inventory control, maintenance optimisation, container logistics and transport optimisation. He was also co-founder of the well-known network for reverse logistics REVLOG.
Work in Progress (5)
Hekimoglu, M., van der Laan, E. & Dekker, R. (2017). Secondary markets: A potential supply source or a fierce competitor? Not yet defined.

Hekimoglu, M., Dekker, R. & van der Laan, E. (2017). Spare Parts Inventory Control Under Markov Modulated Supply Risk. Production and Operations Management, Submitted.

Riessen, B., Negenborn, R.R. & Dekker, R. (2015). Real-time Container Transport Planning with Decision Trees based on Offline Obtained Optimal Solutions. (Preprints). : .

Zhu, S., Dekker, R., Jaarsveld, W.L. van, Wang, R. & Koning, A.J. (2015). An Improved Method for Forecasting Spare Parts Demand using Extreme Value Theory. (Preprints). : .

Heij, C., Kim, T.Y. & Dekker, R. (2015). The value of express delivery services for cross-border e-commerce in European Union markets. (Preprints). : .
Recognitions (3)
Editorial positions
Mathematical Methods of Operations Research

Editorial Board

IMA Journal on Mathematics Applied in Business and Industry

Editorial Board
Side positions
Lnmb

chairman of daily board
Awards (2)
---
Address
Visiting address
Office: Tinbergen Building H11-33
Burgemeester Oudlaan 50
3062 PA Rotterdam

Postal address
Postbus 1738
3000 DR Rotterdam
Netherlands