T.H. (Taco) Reus
Endowed Professor
RSM - Rotterdam School of Management
Erasmus University Rotterdam
Member ERIM
Field:
Strategy & Entrepreneurship
Affiliated since 2009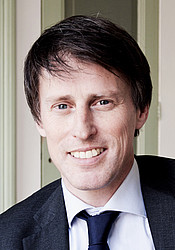 Taco Reus is professor in Global Strategy at the Department of Strategic Management & Entrepreneurship, Rotterdam School of Management, Erasmus University (RSM).

His research examines how firms are influenced by the environment in which they strategize, operate and expand, and how organizational capabilities and experience help or hurt firms in this environment. Commonly, Taco Reus studies these topics in the context of mergers and acquisitions. His current research focuses on the role of contextual factors in post-merger integration such as cultural and institutional differences in cross-border acquisitions. His other related projects look at the role of procedural qualities during post-merger integration, such as procedural justice, emotional capability, and other integration capabilities, and how firms can manage the post-merger integration process successfully.

Taco Reus' articles have been published in several high-profile academic journals including the Academy of Management Journal, the Academy of Management Review, the Strategic Management Journal, the Journal of International Business Studies, and Management International Review. He currently serves on the editorial board of the Academy of Management Review for which he received Outstanding Reviewer awards in both 2009 and 2011, and Strategic Organization.

Professor Reus teaches courses on the institutional context of firms in RSM's BA and IBA programmes and on international firm strategies in the school's Global Business & Stakeholder Management Master's programme. He was nominated professor of the year in 2010, 2011 and 2012 by his BA students.

Taco Reus obtained his master's degree in psychology from the University of Amsterdam, and his Ph.D. in strategic management from Florida State University. With his dissertation entitled 'A Knowledge-Based View of International Acquisitions,' he was a finalist in the Organisation Science 2003 Dissertation Proposal Competition and the 2004 Gunnar-Hedlund Competition for best dissertation in international business. Prior to joining RSM, he worked at Florida Atlantic University.
PhD Projects (3)


Role: Promotor
PhD Candidate: Ron Maas
Time frame: 2014 -

Recognitions (6)
Editorial positions
Academy of Management Review

Editorial Board

Strategic Management Journal

Editorial Board

Journal of Management

Editorial Board

Journal of International Business Studies

Editorial Board

Strategic Organization

Editorial Board
Organization Membership
Academy of Management

Member Awards Committee
PhD Vacancies (2)
PhD in Strategic Management and Entrepreneurship
The Department of Strategic Management and Entrepreneurship at the Rotterdam School of Management, Erasmus University provides a strong research environment, with numerous faculty members and PhD students working across nearly all relevant fields of the wider strategic management field. Three characteristics make the Department an excellent environment for high-quality candidates to pursue a PhD.
• First, we pride ourselves in our excellent PhD placement record, and our graduates routinely find placements in top schools worldwide. Recent placements include INSEAD, Judge (Cambridge), Desautels (McGill), HEC Paris, ETH Zurich, Otto Besheim (WHU), and Moore (University of South Carolina).
• Second, the department hosts specialists in a wide variety of methodological traditions, including survey and archival data analysis, longitudinal econometric analysis, meta-analysis, case studies, grounded theory, and fuzzy-set qualitative comparative analysis.
• Third, our department is well-connected internationally. It structurally hosts visiting professors, like Gerry George (SMU), and our own faculty have held visiting positions at schools like Harvard, Imperial, Kellogg, MIT, and Wharton.In short, the Department offers one of the most stimulating and productive environments for pursuing a PhD in Strategic Management and Entrepreneurship in North-western Europe.
PhD research in the Strategic Management and Entrepreneurship group at the Rotterdam School of Management is expected to take place within four main research themes that represent currently ongoing research:
1. Strategic and Corporate Entrepreneurship;
2. Strategic Renewal;
3. Corporate Governance and Competitiveness;
4. Global Strategy.
Although research that cuts across these four themes is encouraged, candidates are expected to express and explain their preferences for one or more research themes in the cover letter of their application.
Read more
Mergers and Acquisitions by Chinese Firms in Europe
This project focuses on cross-border acquisitions by Chinese firms in the European market. In the past decade, the European market has witnessed an explosive inflow of Chinese firms eagerly seeking to acquire local targets. While such inflow of funds helps to revitalize the staggering economy in this market, the cross-border acquisitions by Chinese firms also face tremendous doubts and subsequent obstacles in Europe. Research on cross-border acquisitions is prolific, yet few prior studies have focused specifically on the Chinese acquisitions in Europe. Therefore, this research is an initial attempt to gain a deeper understanding of this important phenomenon. Specifically, we address two important research questions: (1) What determines the successful formation of Chinese cross-border acquisitions at the pre-deal stage? And (2) What determines the successful integration of Chinese cross-border acquisitions at the post-deal stage?
Read more
---
Address
Visiting address
Burgemeester Oudlaan 50
3062 PA Rotterdam

Postal address
Postbus 1738
3000 DR Rotterdam
Netherlands