Inaugural address interorganisational strategies by Vareska van de Vrande
---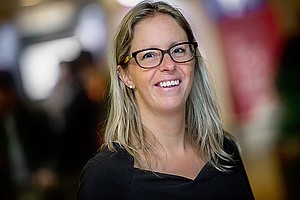 Vareska van de Vrande, ERIM Member and professor of collaborative innovation and business venturing at Rotterdam School of Management, Erasmus University (RSM), will deliver her inaugural address Collaborative Innovation: Creating opportunities in a changing world on 2 June 2017. During her address, Professor Van de Vrande will call on companies to start thinking about different interorganisational strategies as part of their integrated growth strategy.
Professor Vareska van de Vrande will argue that as a result of the changing business environment, companies need to continuously invest in the development of new business in order to remain competitive. But, due to the increasing complexity of the environment, internal development is often not enough and collaborative innovation has become more important. In her inaugural lecture, Van de Vrande will discuss how recent developments may influence collaborative innovation and business venturing, and how these will have short- and long-term implications for organisations.
Future of collaborative innovation
The address will be preceded by a symposium entitled The Future of Collaborative Innovation & Business Venturing, where various speakers will uncover the different forces at play. Participants can also explore the response options companies have to the greater dissemination of knowledge, employee mobility, and the increasing number of start-ups.
Prof. Van de Vrande's inaugural address will take place on Friday, 2 June 2017 and is open to the public. The ceremony will start at 16:00 in the Auditorium of the Erasmus Building on Woudestein campus, Burgemeester Oudlaan 50 in Rotterdam. The reception will take place at 16:45 in the same building.
About Vareska van de Vrande
Vareska van de Vrande is a professor of collaborative innovation and business venturing in RSM's Department of Strategic Management & Entrepreneurship. She joined RSM in 2007 after completing a PhD in industrial engineering and management science at Eindhoven University of Technology.
Van de Vrande's expertise focuses on the areas of corporate venturing and collaborative innovation, including external technology sourcing, corporate venture capital investments, strategic alliances, joint ventures, and mergers and acquisitions. Other research interests include (corporate) entrepreneurship, patents, and venture capital. She has published articles in leading academic journals, including Strategic Management Journal, Journal of Product Innovation Management, IEEE Transactions on Engineering Management, and Journal of Business Venturing. At RSM, Vareska teaches courses and modules in strategic management and corporate venturing at various levels.
In addition, Prof. Van de Vrande is the director of RSM's Part-time PhD Programme in Management, a visiting professor at the École Polytechnique Fédérale de Lausanne in Switzerland, the founder of two web-portals on open innovation (www.openinnovatie.nl and www.openinnovation.eu), and a certified Lego Serious Play facilitator.
Watch her talk about the advantages of co-working spaces and about open-innovation processes on RSM Discovery.