prof.dr.ir. V.J.A. (Vareska) van de Vrande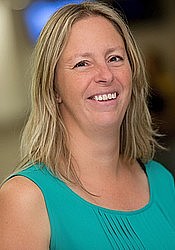 Full Professor
Rotterdam School of Management (RSM)
Erasmus University Rotterdam
Fellow ERIM
Field:
Strategy & Entrepreneurship
Affiliated since 2007
Vareska van de Vrande is Professor of Collaborative Innovation and Business Venturing at Rotterdam School of Management, Erasmus University. Vareska joined RSM in 2007 after completing a PhD in Industrial Engineering and Management Science at the Eindhoven University of Technology.
Vareska's expertise focuses on the areas of corporate venturing and collaborative innovation, including external technology sourcing, corporate venture capital investments, strategic alliances, joint ventures, and mergers and acquisitions. Other research interests include (corporate) entrepreneurship, patents, and venture capital. She has published articles in leading academic journals, including the Strategic Management Journal, the Journal of Product Innovation Management, IEEE Transactions on Engineering Management, and the Journal of Business Venturing. At RSM, Vareska teaches courses and modules in Strategic Management and Corporate Venturing at different levels.
In addition, Vareska is also the director of the Part-time PhD Programme in Management at RSM, a visiting professor at the École Polytechnique Fédérale de Lausanne in Switzerland, the founder of two web-portals on open innovation (www.openinnovatie.nl and www.openinnovation.eu), and a certified LEGO SERIOUS PLAY facilitator.
Publications (26)
Articles (13)
V.J.A. van de Vrande, J.P.J. de Jong, W. Vanhaverbeke & M. de Rochemont (2009). Open Innovation in SMEs: Trends, Motives and Management Challenges.

Technovation, 29

(6/7), 423-437. doi:

10.1016/j.technovation.2008.10.001

W. Vanhaverbeke, V.J.A. van de Vrande & H.W. Chesbrough (2008). Understanding the advantages of open innovation practices in corporate venturing in terms of real options. Creativity and Innovation Management, 17 (4), 251-258.

V.J.A. van de Vrande, C. Lemmens & W. Vanhaverbeke (2006). Choosing governance modes for external technology sourcing. R and D Management, 36 (3), 347-363.
Book Contributions (6)
E. Stam & V.J.A. van de Vrande (2017). Solopreneurs and the rise of co-working in the Netherlands. In Entrepreneurial Neighbourhoods. Cheltenham, UK: Edward Elgar Publishing

S. Brunswicker & V.J.A. van de Vrande (2014). Exploring Open Innovation in Small and Medium-Sized Enterprises. In H Chesbrough, W Vanhaverbeke & J West (Eds.), Exploring the next wave of open innovation research. Cheltenham: Edward Elgar

J.H. Burgers & V.J.A. van de Vrande (2011). Who is the Corporate Entrepreneur? Insights from Opportunity Discovery and Creation Theory. In S. Zahra (Ed.), Handbook of Corporate Entrepreneurship. Edward Elgar

V.J.A. van de Vrande (2008). The Importance of Internal Alignment for Open Innovation. In Open Innovation: The New Business Strategy. Hyderabad: Icfai University Press

J. Halman, J. Ulijn, V.J.A. van de Vrande & F. Umbach (2007). The importance of cooperation and support for technology start-ups: a comparison of the Eindhoven and Darmstadt areas. In Entrepreneurship, cooperation and the firm: the emergence and survival of high tech ventures in Europe (pp. 261-286). Cheltenham: Edward Elgar
Doctoral Thesis
V.J.A. van de Vrande (2007, november 7). Not invented here: managing corporate innovation in a new era. TUE (Eindhoven: Eindhoven Centre for Innovation Studies) Prom./coprom.: Prof.Dr. G.M. Duysters & W. Vanhaverbeke.
Professional Publications (5)
V.J.A. van de Vrande & A.P. de Man (2010). Embracing Open Innovation. In Innovation EU, Vol. 2-1. London: Innovation Europe

V.J.A. van de Vrande & W. Vanhaverbeke (2006). Innoveren door Externe Innovatie. In VMA Jaarboek 2006 (pp. 38-45)

M. de Rochemont & V.J.A. van de Vrande (2006). Open Innovatie en de Rol van Corporate Venture Capital. In J. Sistermans (Ed.), Open stellingen: Essays over Open Innovatie (pp. 57-64). Den Haag: Quantes
Courses (2)
---
Past
Strategic Entrepreneurship (2017/2018)
PhD Vacancy (1)
To develop world-class academics pursuing high-impact research in Strategic Management and Entrepreneurship, we have developed a doctoral programme that combines deep-level understanding in core topics and thorough grounding in methodological design and analytical skills. Joining the PhD programme means joining a Strategic Management and Entrepreneurship group with a highly collaborative and cutting-edge research culture. The group harbours expertise in a broad range of topics: faculty members and PhD candidates work across nearly all relevant areas of the strategic management and entrepreneurship fields.  
Collaboration with expert faculty: Throughout the programme, candidates work closely with faculty on joint and supervised research.  Teamwork offers candidates the opportunity to learn diverse research skills and become familiar with a range of debates in the field before selecting the focus of subsequent doctoral work. 
Excellent job opportunities: Alumni of the PhD programme hold academic positions in renowned academic institutes around the world, including Cambridge, ETH Zurich, HEC Paris, INSEAD, Kellogg, McGill, the University of South Carolina, Renmin University, and WHU.   
More information is on the "PhD in Strategic Management" website: https://www.rsm.nl/research/departments/strategic-management-and-entrepreneurship/phd-in-strategic-management/.
Read more
Events (3)
Inaugural Address
As: Speaker
Research Seminar
As: Coordinator, Contact
Research Seminar
As: Contact, Coordinator
---
Address
Visiting address
Office: Mandeville Building T07-56
Burgemeester Oudlaan 50
3062 PA Rotterdam
Postal address
Postbus 1738
3000 DR Rotterdam
Netherlands