Managing the Transition to a Sustainable Enterprise
---
Lessons from Frontrunner Companies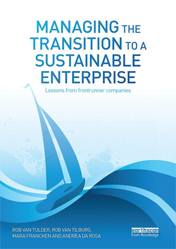 By Rob van Tulder, Rob Tilburg, Mara Francken and Andrea Rosa
How do businesses make the business case for sustainability? A new and revised English edition of an award-nominated Dutch book reveals the decision-making processes and perceptions of CEOs and middle managers that shape their organisation's transition to sustainable business.
Rob van Tulder, Professor of International Business-Society Management, and his co-authors worked with 20 high-profile companies in the Netherlands to write Managing the Transition to a Sustainable Enterprise. Lessons from Frontrunner Companies.
The Dutch version of the book was published last year and was shortlisted for the 'best management book of the year 2012' award. Now, the official English version makes this work accessible to an international audience. The book will appear this autumn and is published by London-based Earthscan at Routledge. Earthscan is the world's leading publisher in the field of sustainability.
This book combines practice and theory to provide a management perspective on the 'business case' for sustainability, and describes the Dutch practice to an international audience. Together, the four authors researched for several years to produce the book, which offers insights into real-life transition processes towards sustainability.
It's aimed at managers as well as students at undergraduate and postgraduate level, in vocational and academic institutions. It identifies phases and attitudes toward sustainability through business cases and related business models. It also gives in-depth analysis and insights into:
existing literature and theoretical concepts
business cases for sustainability
barriers to sustainability - behavioural characteristics
more than 70 'tipping points'
approaches to shaping stakeholder dialogue
effective engagement of stakeholders in each phase of transition
how companies move through the phases towards higher levels of sustainability
insights of employees of the 20 companies whether the business case was really achieved
identification of successful interventions.
Endorsements
"A balanced, realistic and businesswise insight in CSR thinking and acting, bringing long term challenges to business leaders' agendas today. For business leaders with the ambition to enhance both society and business vitality." Ab van der Touw, CEO of Siemens, the Netherlands
"Sustainability is no longer a threat or a business restriction but a huge enabler of innovation and commercial success; maybe that's the most important lesson of this publication." Hans Koeleman, Director of Corporate Communications KPN
"A 'must-read' for anyone who is serious about studying or experimenting with the evolution towards sustainable enterprise." Maurizio Zollo, President of the European Academy of Management
"An excellent application of transition thinking at the corporate level. Perfect combination of theory and practice." Jan Rotmans, professor in sustainability transitions, Dutch Research Institute for Transitions (DRIFT)
"If you want to make wise decisions or to analyse what others are doing, use this book every day!" Jonathan Gosling, professor of leadership studies, University of Exeter Business School
"This book provides excellent models and lessons how to tackle the sustainability challenges we face as one of the world's largest dairy co-operatives." Frank van Ooijen, Director of Sustainability, FrieslandCampina
"This book is the first that addresses the management of an ever increasing 'portfolio' of cross-sector partnerships a systematic and dynamic way. A realistic counterweight to overly optimistic or pessimistic accounts of sustainability efforts of large established companies like Air France-KLM." Inka Pieter, Director of CSR & Environmental Strategy for KLM
"This book gives practical insights and tools that help us on the road to sustainable insurance." Liesbeth van der Kruit, Director CSR, Achmea
"This book makes a valuable contribution to clarifying both the end-point and pathways to sustainable enterprise with valuable frameworks and exploration of key concepts such as tipping points." Steve Waddell, Networking Action
"Sustainability is not a strategic option for PGGM (with more than €140 billion assets under management) but a necessity and conviction. This book inspired us with many concrete examples, tools and good-practices from peers." Frido Kraanen, director of Co-operative and Sustainability for Dutch pension operator PGGM
Free seminars – the Erasmus Business Series
Professor Rob van Tulder will be hosting the second edition of the Erasmus Business Series that will take place in Amsterdam on Thursday 28 November 2013. The Series is a thought-provoking, impactful, and interactive course of free seminars covering a range of business topics. Each seminar aims to inspire mid to senior professionals, and to develop their understanding of current business issues. The series is organised by the department of Executive Education at RSM.