Navigating Family Businesses at the Crossroads
Succes for second ECFB family business symposium
More than 140 people from family-run businesses of all sizes in the Netherlands attended a symposium bringing together and stimulating interaction between family businesses and researchers at Rotterdam School of Management, Erasmus University (RSM) last week. The event 'Navigating Family Businesses at the Crossroads' was hosted by RSM's Erasmus Centre for Family Business (ECFB), and supported by FBNed, the Dutch association for family businesses.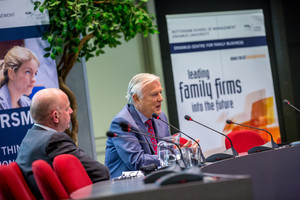 An afternoon of presentations by leaders of prominent international family businesses, as well as frank question-and-answer sessions served to raise awareness of the huge value of research to family businesses.
But the event was not just a cosy get-together. Family businesses hold huge value in many national economies, and are increasingly valued in the Netherlands; the two-year old ECFB could contribute to the lobby for the interests of family businesses. "Now that the Dutch government has rhetorically 'embraced' family businesses, how can we make it walk the talk?" asked Professor Pursey Heugens, Professor of organisational development theory and change at RSM in his welcome speech.
Two keynote speakers from high-profile international family businesses and two breakout workshops lead by family business practitioners and researchers exemplified the linking of science and practice, which is a particular focus of the ECFB.
The first keynote speaker of the afternoon was John Fentener van Vlissingen, the founder and chairman of the Supervisory Board of the BCD Group who was interviewed about big decisions within family businesses by Professor Hans van Oosterhout, Professor of Corporate Governance and Responsibility at RSM.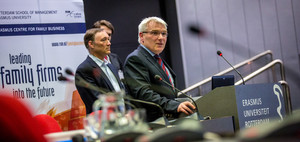 Second keynote speaker of the afternoon was Thomas Ahlström, managing director of the Finnish organisation Antti Ahlström Perilliset Oy, a private holding company owned by members of the Ahlström family.He is the fifth generation of a family business that has played a pivotal role in the development of the Finnish economy. He was interviewed by Albert-Jan Thomassen, Director of FBNed.
Reactions from the audiences demonstrated the value of such events. "I'm glad there's a focus on entrepreneurship," said one. Another admitted to a change in thinking as a result of attending the event: "It makes me wonder about my own situation. I wasn't focusing as much on continuity, but I will do so more now."
And as for the value of the ECFB, at least one audience member said: "I now realise how important it is for practitioners and researchers to work together."
A full and detailed report of this Family Business seminar from the ECFB will be added shortly.
You can find out more about family business research and practice through the ECFB webpages, or find out more about RSM's Executive Education programmes for business managers and executives at all levels at www.rsm.nl/Executive, including the first RSM Executive Education programme designed specifically for family business leaders, Leadership of Family Firms which will run again in autumn 2014.