A. (Ainara) Novales MSc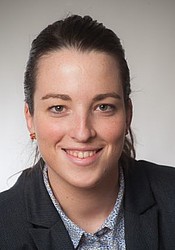 Rotterdam School of Management (RSM)
Erasmus University Rotterdam
ERIM PhD Candidate
Field:
Logistics & Information Systems
Affiliated since 2016
PhD Track Producer-side Affordances of Digitized Products: From Perception to Actualization and Impact Generation
Advancements in information technology, e.g., regarding the Internet of Things, have fostered the digital enrichment—or "digitization"—of products. Based on their generativity, digitized products provide producers a wide range of opportunities to offer new functionality and continuously re-purpose their offerings. While researchers have started to investigate digitized products, little is known about the various potentials that these products offer not only to consumers, but also to their producers, the factors that influence producers' choice to implement some potentials but not others as well as the effort required for this implementation and for the generation of desired impact. This dissertation takes an affordance theory approach to investigate the perceived affordances of digitized products, the effort required to actualize these affordances, as well as the inhibiting factors that prevent firms from generating desired impact from their actualized affordances.
While the project is centered in the information systems discipline, it is designed to be cross-functional and will draw on the theoretic foundations of the field of strategy (e.g., innovation, competitive advantage, capability/resource-based view of the firm) and information systems engineering (e.g., data analytics, digitized product platforms/ecosystems). This project will use a mixed-method approach combining qualitative and quantitative research.
Keywords

Digitized products, smart products, smart-connected products, Internet of Things, technology affordances, generativity

Time frame

2016 -
Publications
Conference proceeding (3)
Academic (3)

Novales, A., Mocker, M., & van Heck, E. (2019). Producer-side Use Cases of Digitized Products: What's Best for Your Company? In ICIS 2019 Proceedings http://hdl.handle.net/1765/124949

Roecker, J., Mocker, M., & Novales, A. (2017). Digitized Products: Challenges and Practices from the Creative Industries. In Twenty-third Americas Conference on Information Systems

Novales, A., & Mocker, M. (2016). IT-enriched "Digitized" Products: Building Blocks and Challenges. In Proceedings of the Twenty-second Americas Conference on Information Systems
Research case (1)
Academic (1)

Mocker, M., & Novales, A., (2020). Connected Cleaning at Kärcher, No. 441
---
Address
Visiting address
Office: Mandeville Building T09-12
Burgemeester Oudlaan 50
3062 PA Rotterdam
Postal address
Postbus 1738
3000 DR Rotterdam
Netherlands