ERIM Support Programmes (ESP)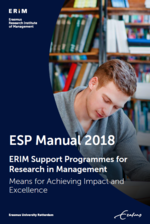 ERIM offers financial support to ERIM Fellows, ERIM Members, ERIM Associate Members and ERIM PhD candidates for a range of research-related activities.
Support for events and international collaboration
ESP 1 Seminars and Seminar Series
ESP 3 Workshops and Conferences
ESP 5 Research Visits (Outward / Inward)
Support for data and other resources
ERIM Research Facilities
ESP 6 Data Collection in the Field
ESP 8 Personal Research Assistants (PRA)
ESP 12 Data Collection in Lab Experiments (EBL)
ESP 13 Materials, Equipment, Software & Databases
Support for publishing and dissemination
ESP 2 ERIM Open Access Publishing
ESP 4 Editing of Scientific Texts
ESP 7 Submission Fees for Journals
ESP 9 ERIM Inaugural Address Series Research in Management
Support for PhD candidates
ESP 10 ERIM Support Programme for PhD candidates
ESP 11 ERIM PhD Series: "Research in Management"
---
More information is available on MyERIM (for ERIM members only). Please log-in to MyERIM using your ERNA number (including @eur.nl).