Every year, ERIM hosts the ERIM Awards ceremony and luncheon to honour institute members who stand out through excellent performance.
There are seven categories of ERIM Awards:
Browse through the menu to learn more about the awards and its winners.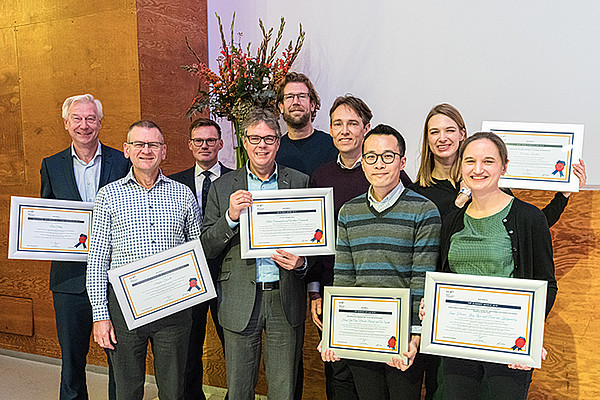 Ale Smidts - as winner and on behalf of Dan Schley, Rene de Koster - on behalf of Stefano Tasselli, Pursey Heugens - ERIM Scientific Director, Dirk Schoenmaker, Maarten Boksem, Willem Schramade, Hang-Yee Chan, Caroline Witte, Inga Hoever . | Photo Rene Castelijn
2019: ERIM recognised its researchers for their publications, dissertation and outstanding work
The Erasmus Research Institute of Management (ERIM) recognised the best research articles, book, dissertation and young researchers at the ERIM Awards ceremony at the Kunsthal in Rotterdam on 28 November 2019. The award ceremony was part of an anniversary event, which celebrated 20 years of ERIM.
Photos Rene Castelijn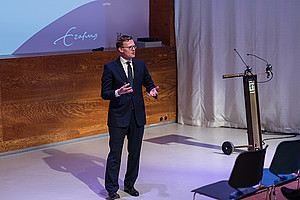 Researchers from the Institute, which celebrates its 20th anniversary this year, were encouraged to venture out and ensure societal impact by aiming higher and seek diversity in the publication portfolio. Prof. Pursey Heugens, Scientific Director of ERIM and RSM Dean of Research, opened the event talking about what ERIM has brought in its first 20 years, notably a terrific relationship between RSM and ESE, a wonderful set of ambassadors in the form of nearly 500 PhD graduates, top quality output, global recognition, and a values-driven community. The next 20 years will not be the same, however. ERIM will continue to promote excellence in everything it does, but at the same also cater to the societal demand for open and engaged science, and experiment with new ways of evaluating research and supporting diverse academic careers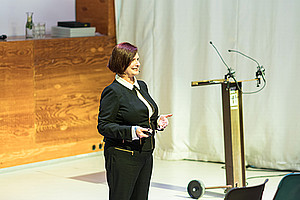 Stephanie Bryant, Executive Vice-president and Chief Accreditation Officer at AACSB, gave a keynote speech about how the new AACSB's standards will impact the future business of business schools. An exciting new development is that the new standards are increasingly reflecting many business school efforts to do more impactful and engaged research. She commented on how the RRBM manifesto represented a pivot for the AACSB thinking in relation to business schools role in wider society.
Rector magnificus Prof. Rutger Engels from Erasmus University Rotterdam presented the ERIM awards for achievements such as excellence in dissertations, and scientific impact. The award recipients were selected by a jury, consisting of representatives from the Universities of Groningen, Tilburg and Maastricht.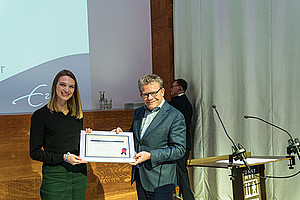 The 2019 Dissertation Award was presented to Dr Caroline Witte from ESE for her dissertation entitled Bloody business: multinational investment in an increasingly conflict-afflicted world, which evaluates the causes of political conflict and its consequences for investments by multinational enterprises. Her promotors were Prof. Enrico Pennings, Prof. Harry Commandeur and Prof. Martijn Burger. Caroline Witte is currently Assistant Professor of Strategy and International Management at the Copenhagen Business School. The jury selected Dr Witte's dissertation for the timeliness and importance of the research topic. "The data is original and the empirical analyses are very well done. The thesis makes an important (empirical) contribution to both international business and international economics." Another jury member added: "This thesis really stands out. Dr Witte studies a very interesting societal problem, and at the same time also advances our theoretical understanding. The research builds on strong multi-disciplinary foundations, and is empirically solid. The study is also highly readable, and very complex issues are presented in a very accessible manner."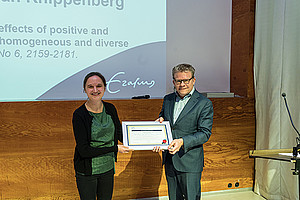 The 2019 Top Article Award was presented to Dr Inga Hoever and Prof. Daan van Knippenberg for their article with Jing Zhou, entitled Different strokes for different teams: The contingent effects of positive and negative feedback on the creativity of informationally homogeneous and diverse teams which was published in Academy of Management Journal. Inga Hoever is Associate Member of ERIM and Assistant Professor at the Department of Organisation and Personnel Management at RSM. Daan van Knippenberg is High Performance Member of ERIM and Professor of Organisational Behaviour at the Department of Organisation and Personnel Management at RSM and Joseph F. Rocereto Chair of Leadership and Academic Director of the Institute of Strategic Leadership, LeBow College of Business at Drexel University. He was not able to attend the ceremony. "The authors have taken on a truly salient topic, with clear connections to contemporary management practice," said the jury. "The contributions of this article are both theoretical and societal. The creativity is convincingly presented as a team outcome, rather than as an individual trait. The research question is addressed using multiple methods, including an elaborate experiment. It is also interesting and illustrative that this article itself is the product of the concerted efforts of a highly diverse team."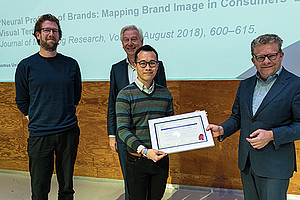 Another 2019 Top Article Award was presented to PhD candidate Hang-Yee Chan, Dr Maarten Boksem and Prof. Ale Smidts for their article Neural Profiling of Brands: Mapping Brand Image in Consumers' Brains with Visual Templates which was published in Journal of Marketing Research. Hang-Yee Chan is ERIM PhD Candidate in Marketing, Department of Marketing Management at RSM. Maarten Boksem is High Performance Member of ERIM and Associate Professor of Marketing Management, Department of Marketing Management at RSM. Ale Smidts is High Performance Member and Fellow of ERIM and Professor of Marketing Research, Department of Marketing Management at RSM. See more about this research on RSM Discovery, plus this video on brain scans to reveal engagement levels.
The jury said: "This is an exemplary contribution, because it shows how classic questions in the field of marketing, such as cobranding suitability and brand image strength, can be reassessed using novel methods. In particular, the authors draw on an interesting mix of methods from neurology, such as functional magnetic resonance imaging, and classic marketing research methods, in the form of consumer surveys. The resulting study is original, timely and important."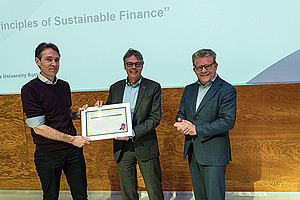 The 2019 Book Award was presented to Prof. Dirk Schoenmaker for his book "Principles of Sustainable Finance" with Willem Schramada published by Oxford University Press. Dirk Schoenmaker is Member of ERIM and Professor of Banking and Finance at the Department of Financial Management at RSM.
"This book fills a clear gap in the literature: a comprehensive and holistic perspective on sustainable investing (…) The work should also have broad appeal for readerships beyond academia. It convincingly shows that the financial system has an indispensable role to play in the societal transition towards a more sustainable future. It is also a commendable feature of the book that it is very clearly written, and understandable to audiences who are not themselves insiders in the global financial system," according to the jury.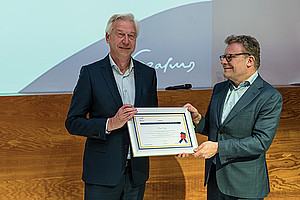 One award went to Dr Dan Schley, High Performance Member of ERIM and Assistant Professor at the department of Marketing Management at RSM. "Dan Schley received his PhD in quantitative psychology from the Ohio State University and joined RSM as an Assistant Professor of Marketing in July 2015. Dan is a truly interdisciplinary researcher, who has published in premier journals in consumer behaviour, management, and psychology. In particular, publishing in Psychological Review is a rare event, and he actually is the first RSM scholar to do so. Dan was also successful in acquiring an NWO Veni grant in 2017. In addition to being a terrific researcher, Dan is also an excellent and very dedicated teacher, and an active member of the Young Erasmus Academy." Dr Schley was not able to attend the ceremony so the chair of the department, Prof. Ale Smidts, received the honour on his behalf.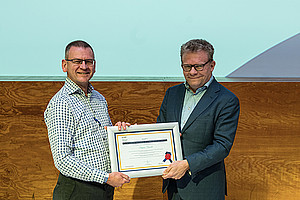 The other 2018 ERIM Award for Outstanding Performance by a Young Researcher went to Dr Stefano Tasselli, Member of ERIM and Assistant Professor in the Department of Marketing Management at RSM. The jury said: "Stefano Tasselli joined ERIM in 2015, after receiving his PhD from the University of Cambridge in 2015. In the last six years, Stefano published six top papers in management and three more in adjacent disciplines. Stefano combines a strong focus on the micro-foundations of organisational social networks and innovation, with an interest in broader topics of interest for organisational research. External interest in Stefano's work is evidenced by a rapidly growing number of scholarly citations, and by the attention his work has generated in the media. Finally, in 2018, Stefano was mentioned by Poets and Quants as one of the 40 World's Best Business Professors under 40. Dr Tasselli was not able to attend the ceremony so the chair of the department, Prof. René de Koster, received the honour on his behalf.