Dr. A. (Anne-Kathrin) Klesse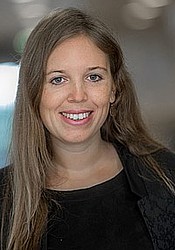 Rotterdam School of Management (RSM)
Erasmus University Rotterdam
Anne-Kathrin Klesse obtained her PhD from Maastricht University and then worked at Tilburg University as an Assistant Professor in Marketing. In October 2016, she joined Rotterdam School of Management, Erasmus University. She frequently spends time at Stanford Graduate School of Business as a visiting scholar. 
In her research, Anne-Kathrin studies consumer judgement and decision making. She is particularly interested in how we can nudge consumers to make "better" decisions, such as saving money, eating healthier or making sustainable consumption choices. One stream of her research focuses on the effect of expression modalities (e.g., whether consumers express a decision by speaking or button pressing) on consumer choice and judgment; for this research  she was awarded the prestigious VENI grant in 2015. In another stream of research, Anne-Kathrin explores how marketing strategies, such as providing product recommendations or allowing product customization, influence consumer judgement. 
Her research has been published in journals such as Journal of Consumer Research and International Journal of Research in Marketing. 
Anne-Kathrin currently teaches Marketing Beyond Borders: Managing Cross Cultural Challenges (M.Sc) and co-organizes the Honours Program (M.Sc). 
Publications (6)
Articles (6)
A.K. Klesse, J. Levav & C. Goukens (2015). The Effect of Preference Expression Modalities on Self-Control. Journal of Consumer Research, 42 (4), 535-50.

E.N. Garbinsky, A.K. Klesse & J. Aaker (2014). Money in the Bank: Feeling Powerful Increases Saving. Journal of Consumer Research, 38 (6), 1047-62.

A.K. Klesse, C. Goukens, K. Geyskens & K. de Ruyter (2012). Repeated Exposure to the Thin Ideal and Implications for the Self: Two Weight Loss Program Studies. International Journal of Research in Marketing, 29 (4), 355-62.
PhD Track (1)

Role: Daily Supervisor
PhD Candidate: Gizem Yalcin
Time frame: 2017 -
Event (1)
Research Seminar
As: Speaker
---
Address
Visiting address
Office: Mandeville Building T10-38
Burgemeester Oudlaan 50
3062 PA Rotterdam
Postal address
Postbus 1738
3000 DR Rotterdam
Netherlands