Dr. A. (Anne-Kathrin) Klesse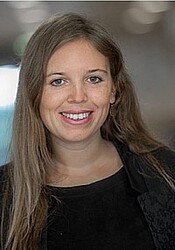 Rotterdam School of Management (RSM)
Erasmus University Rotterdam
Anne-Kathrin Klesse obtained her PhD from Maastricht University and then worked at Tilburg University as an Assistant Professor in Marketing. In October 2016, she joined Rotterdam School of Management, Erasmus University. She frequently spends time at Stanford Graduate School of Business as a visiting scholar.
In her research, Anne-Kathrin studies consumer judgement and decision making. In one stream of research, she investigates how we can nudge consumers to make "better" decisions, such as saving money, eating healthier or making sustainable consumption choices. Here, she considers a broad set of factors, such as the language in which information is received or the way in which consumers express their decisions (e.g., by speaking or button pressing). Most of her ongoing research attempts to understand how technology impacts consumer decision-making. For instance, she explores whether different device interfaces (e.g., voice-operated versus touch-, or click-operated) prompt different decisions. Moreover, she investigates customers' perceptions of and reactions to product recommendations generated by algorithms (vs. humans). Her research has been awarded with the prestigious VENI grant (by NWO) and was published in leading Marketing journals, such as Journal of Consumer Research (JCR), Journal of Marketing Research (JMR), and Journal of Marketing (JM).
Anne-Kathrin currently teaches Marketing Beyond Borders: Managing Cross Cultural Challenges in the Marketing Management Programme, co-organizes the Honours Program, and gives (guest) lectures on Consumer Behavior and Experimental Research.
She is a member of the Psychology of AI lab from the Erasmus Centre of Data Analytics (ECDA).
Publications
Article (7)
Academic (7)

Klesse, A. K., Cornil, Y., Dahl, DW., & Gros, N. (2019). The Secret Ingredient Is Me: Customization Prompts Self-Image-Consistent Product Perceptions. Journal of Marketing Research, 56(5), 879-893. https://doi.org/10.1177/0022243719846063

Gai, PJ., & Klesse, A. K. (2019). Making Recommendations More Effective Through Framings: Impacts of User- versus Item-Based Framings on Recommendation Click-Throughs. Journal of Marketing, 83(6), 61-75. https://doi.org/10.1177/0022242919873901

Geipel, J., Hadjichristidis, C., & Klesse, A. K. (2018). Barriers to sustainable consumption attenuated by foreign language use. Nature Sustainability, 2018(1), 31-33. https://doi.org/10.1038/s41893-017-0005-9

Klesse, A. K., Levav, J., & Goukens, C. (2015). The Effect of Preference Expression Modalities on Self-Control. Journal of Consumer Research, 42(4), 535-50.

Garbinsky, EN., Klesse, A. K., & Aaker, J. (2014). Money in the Bank: Feeling Powerful Increases Saving. Journal of Consumer Research, 38(6), 1047-62.

Klesse, A. K., Goukens, C., Geyskens, K., & de Ruyter, K. (2012). Repeated Exposure to the Thin Ideal and Implications for the Self: Two Weight Loss Program Studies. International Journal of Research in Marketing, 29(4), 355-62.
Review article (1)
Academic (1)

Goukens, C., & Klesse, A. K. (2022). Internal and external forces that prevent (vs. Facilitate) healthy eating: Review and outlook within consumer Psychology. Current Opinion in Psychology, 46, [101328]. https://doi.org/10.1016/j.copsyc.2022.101328
Event (1)
Research Seminar
As: Speaker
---
Address
Visiting address
Office: Mandeville Building T10-38
Burgemeester Oudlaan 50
3062 PA Rotterdam
Postal address
Postbus 1738
3000 DR Rotterdam
Netherlands