Dr A. (Aurélie) Lemmens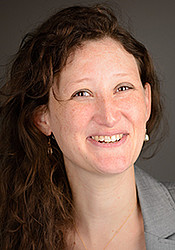 Rotterdam School of Management (RSM)
Erasmus University Rotterdam
Aurélie Lemmens is an Associate Professor of Marketing at the Rotterdam School of Management, Erasmus University (The Netherlands) and the Academic Director of the Expert Practice on Customer Analytics at the Erasmus Center for Data Analytics.
She obtained my Ph.D. degree from K.U. Leuven (Belgium), after obtaining an MSc as Business Engineer at Solvay Business School (Belgium). Before joining RSM, she held appointments at the Erasmus School of Economics in Rotterdam and Tilburg University (The Netherlands). She has also been a visiting scholar at Harvard Business School (USA).
Her research interests focus on the development of prescriptive analytics that can leverage consumer data in order to address key business decisions. She is interested in the design of new methodologies that can guide organizations in their customer-centric decision-making. Her research portfolio is organized according to the three fundamental stages of the customer lifecycle: (i) customer acquisition and new product introduction, (ii) customer development and engagement, and (iii) customer retention. A substantial part of her work involves machine learning and large-scale cluster and grid computing.
Her research has been published in leading academic journals, such as Marketing Science, the Journal of Marketing, the Journal of Marketing Research, and the International Journal of Research in Marketing. In 2012, she was the recipient of the 2012 IJRM Best Paper Award. I am also serving on the editorial board of the Journal of Marketing Research and the International Journal of Research in Marketing. Finally, I was awarded several prestigious grants, including a Marie Curie from the European Research Council, a Veni grant, and a Vidi grant from the Dutch Science Foundation, NWO and she was a finalist for the ERC consolidator grant.
Besides research, she teaches Customer Analytics in the Business Analytics and Management Msc, Customer Centricity in the Marketing Management Msc, and Creating Customer Value in the Executive MBA program. She has received several best teaching awards (2017 and 2019) for her course on Conjoint Analysis.
For more information, please find her CV here or visit www.aurelielemmens.com.
Publications
Conference proceeding (2)
Academic (2)

Puha, Z., Kaptein, M., & Lemmens, A. (2021). Batch Mode Active Learning for Individual Treatment Effect Estimation. In G. Di Fatta, V. Sheng, A. Cuzzocrea, C. Zaniolo, & X. Wu (Eds.), Proceedings - 20th IEEE International Conference on Data Mining Workshops, ICDMW 2020 (pp. 859-866). Article 9346484 IEEE Computer Society. https://doi.org/10.1109/ICDMW51313.2020.00123

Croux, C., Joossens, K., & Lemmens, A. (2004). Bagging a stacked classifier. In Proceedings in Computational Statistics (pp. 839-855)
Working paper (2)
Academic (2)

Pieters, C., & Lemmens, A. (2015). Acquiring customers via word-of-mouth referrals. Marketing Science Institute.
PhD Vacancy (1)
The marketing group at Rotterdam School of Management, Erasmus University seeks highly motivated PhD students looking to study topics in marketing. Our group is unique in the Netherlands by focusing on developing and applying state-of-the-art methodologies from the fields of statistics, economics, and machine learning. Our faculty combines our methodological expertise with a deep understanding of the challenges businesses face. As part of a business school, we have strong ties with industry (profit and nonprofit) and government that allow our research to have direct societal impact. Strong applicants typically have backgrounds in computer science, statistics or econometrics and are looking to pursue careers as world-class academic researchers. Students define and execute their own projects in consultation with their advisers and thus need creativity, self-direction, and a passion for scientific research. We are looking for candidates that are equally interested in solid academic research and in addressing real-world problems.
Read more
Events (3)
ERIM Research Clinic
As: Speaker
ERIM Grant Workshop
As: Speaker
Research Seminar
As: Speaker
---
Address
Visiting address
Office: T10-10
Burgemeester Oudlaan 50
3062 PA Rotterdam
Postal address
Postbus 1738
3000 DR Rotterdam
Netherlands