B.S.B.C. (Bernardo) Lima MSc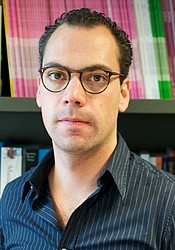 Rotterdam School of Management (RSM)
Erasmus University Rotterdam
ERIM PhD Candidate
Field:
Strategy & Entrepreneurship
Affiliated since 2006
PhD Track On the non-technological determinants of Innovation: the impact of new managerial and organizational capabilities, a first empirical assessment for Dutch organizations
The declining innovativeness and productivity growth of Dutch organizations is revealed in among others recent World Economic Forum publications (Van den Bosch & Volberda, 2003; Volberda, Van den Bosch, 2004). As existing knowledge stemming from technological innovations is at present under-utilized, this decline highlights the necessity to investigate the enablers and inhibitors of managerial and organizational determinants of knowledge absorption, innovation, and productivity growth. In doing so, this research project builds on the conceptual frameworks discussed in the Ministry of Economic Affairs' Innovation Essay 2004 (Volberda & Van den Bosch, 2004) and aims at a first empirical assessment of the enablers and inhibitors of these determinants in Dutch organizations.
To this end, a conceptual framework will be developed focusing on the attributes of the internal and external enablers and inhibitors of the managerial and organizational determinants of innovative organizations. Examples of enablers are demanding internal and external selection environments. Examples of inhibitors are a lack of absorptive capacity and of dynamic managerial capabilities (Eisenhardt & Martin, 2000). Hypotheses will be developed. The empirical research will take place in the context of the Erasmus Competition and Innovation Monitor; an existing survey instrument. This project will contribute to the Monitor by developing and testing new scales. The sample composition and sample size will depend on a.o. the industries selected. The survey data will be analysed and hypotheses will be tested. The survey findings will be discussed in two ways. First, the academic contributions will be assessed in the context of the emerging literature on the strategic impact of management and organization on strategic renewal (including Corporate Entrepreneurship). Second, the findings will be compared to recent data about Dutch organizations in the World Economic Forum publications and will be discussed in terms of the implications for corporate strategy and the Dutch Innovation Agenda (Volberda & Van den Bosch, 2004).
Keywords

innovation; organization; managerial and organizational capabilities; Dutch organizations

Time frame

2008 -
Events (2)
Research Seminar
As: Contact, Coordinator
Research Seminar
As: Coordinator
---
Address
Visiting address
Office: Mandeville Building T11-57
Burgemeester Oudlaan 50
3062 PA Rotterdam
Postal address
Postbus 1738
3000 DR Rotterdam
Netherlands