Dr C.T. (Caroline) Witte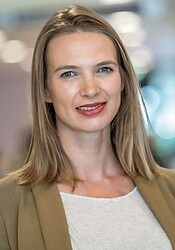 Rotterdam School of Management (RSM)
Erasmus University Rotterdam
Associate Member ERIM
Field:
Strategy & Entrepreneurship
Affiliated since 2013
Caroline Witte is an assistant professor at the department of Strategic Management and Entrepreneurship. Her research interest cover international business, strategy and development economics. She is particularly interested in how firms manage their business in in fragile economies. In her research, she asks: 'How can firms in fragile economies take advantage of a volatile institutional context?' And more generally: 'How can firms exploit the opportunities created by risk, uncertainty and discontinuous shocks?'.
Before joining RSM, Caroline was assistant professor of strategy and international management at the Department of Strategy and Innovation of the Copenhagen Business School. She has a PhD from the Erasmus School of Economics. Her PhD disseration was awarded the prestigious Dissertation Award of the International Management Division of the Academy of Management.
Publications
Chapter (1)
Academic (1)

Witte, C. (2022). Why and How Might the Modern MNE Respond Strategically to Violent Conflict: A Commentary. In M. A. Mithani, R. Narula, & A. Verbeke (Eds.), Crises and Disruptions in International Business How Multinational Enterprises Respond to Crises (pp. 111-119). Palgrave Macmillan. https://link.springer.com/chapter/10.1007/978-3-030-80383-4_6
Doctoral Thesis (1)
Internal (1)

Witte, C. (2015). Bloody Business: Multinational investment in an increasingly conflict-afflicted world. [Doctoral Thesis, Erasmus University Rotterdam]. Erasmus Universiteit Rotterdam (EUR).
Editorial (1)
Popular (1)

Witte, C., & Dilyard, J. (2017). Guest editors' introduction to the special issue: The contribution of multinational enterprises to the Sustainable Development Goals. Transnational Corporations, 24(3), 1-8.
PhD Track (1)

Role: Co-promotor
PhD Candidate: Sanvit Shah
Time frame: 2021 -
Event (1)
PhD Defence
As: Contact, Speaker
---
Address
Visiting address
Burgemeester Oudlaan 50
3062 PA Rotterdam
Postal address
Postbus 1738
3000 DR Rotterdam
Netherlands